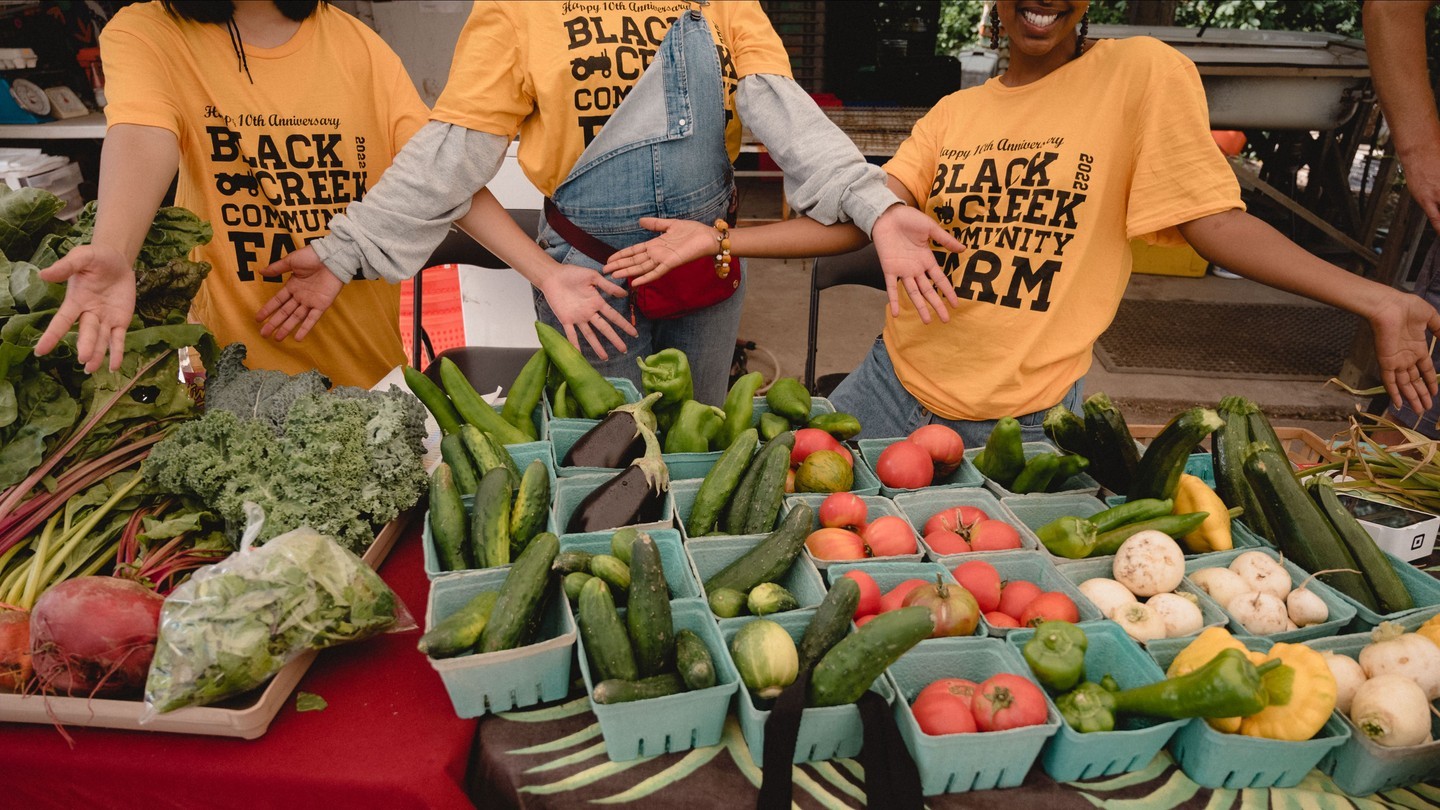 Overview
Imagine doing your placement on a beautiful 8-acre urban farm that houses fluffy chickens, an outdoor classroom, a pavilion, an outdoor brick oven, beehives, and a serene trail system that leads to a ravine. Our growing spaces are models of sustainable urban agriculture that include our food forest, pollinator gardens of both native and medicinal plants, a youth garden, a farm school garden, a seniors' garden, and community garden plots.
Get hands-on experience and skills in urban agriculture, work with a team who are passionate about food and environmental justice, and support the Black Creek community through our various programs and initiatives.
Application Process
Black Creek Community Farm (BCCF) is committed to addressing the needs of our community and may be able to accommodate requests for student placements from time to time. In doing so, would like to create a space and opportunities for Black and Indigenous post-secondary students as well as for students of colour living in the Jane and Finch/ Black Creek neighbourhood.
We consider student placements to be positions that are connected to an educational institution, i.e., a high school or post-secondary institution. Selected students will be assigned a BCCF supervisor, who will work with them to establish a work plan and learning goals. Their BCCF supervisor will also be responsible for signing off on time sheets and placement evaluations as required by the student's affiliated institution.
If we are able to accommodate the requested student placement, BCCF staff will follow up with the applicant and may request an interview. Successful applicants will then complete the intake process with Foodshare's HR Coordinator*.
Successful applicants will be asked to provide the following documents:
Course Outline

Placement Agreement Form
WSIB (insurance for post-secondary students covered by the Ministry of Colleges and Universities)
Vulnerable Sector Check (for students working with children, youth and seniors)
Students are also required to complete in HR Training modules:
AODA

WHIMIS

Worker Health and Safety

Violence and Sexual Harassment in the Workplace
Completing these online training modules will count towards your placement hours.
If you are interested in completing your student placement at Black Creek Community Farm, submit an application that includes your resume and a cover letter that reflects how your personal, educational and/or career goals align with BCCF's goals. Also, attach the requirements of your placement.
*BCCF is a member of FoodShare Toronto's Supportive Partnerships Platform, where FoodShare provides capacity-building and HR support for BCCF to advance their organizational work.
Black Creek Community Farm is celebrate diversity and is proud to be an equal opportunity employer. All qualified applicants will receive consideration for employment without regard to race, color, religion, gender, gender identity or expression, sexual orientation, national origin, genetics, disability, age, or veteran status. We welcome all applicants who share our values of respect, inclusivity, and equality.
Click For Available Placement Opportunities!
If you are a placement program coordinator who supervises multiple students and would like to find out more about placement opportunities, or if you require accommodation when navigating the application process, please email info@blackcreekfarm.ca.