Our Take-home Fundraiser Dinner will bring unique and delicious multi-course dinners for you to enjoy right at home! In partnership with local chefs, cooks, and caterers, all meals will be prepared for your dinner time on December 4, 2020.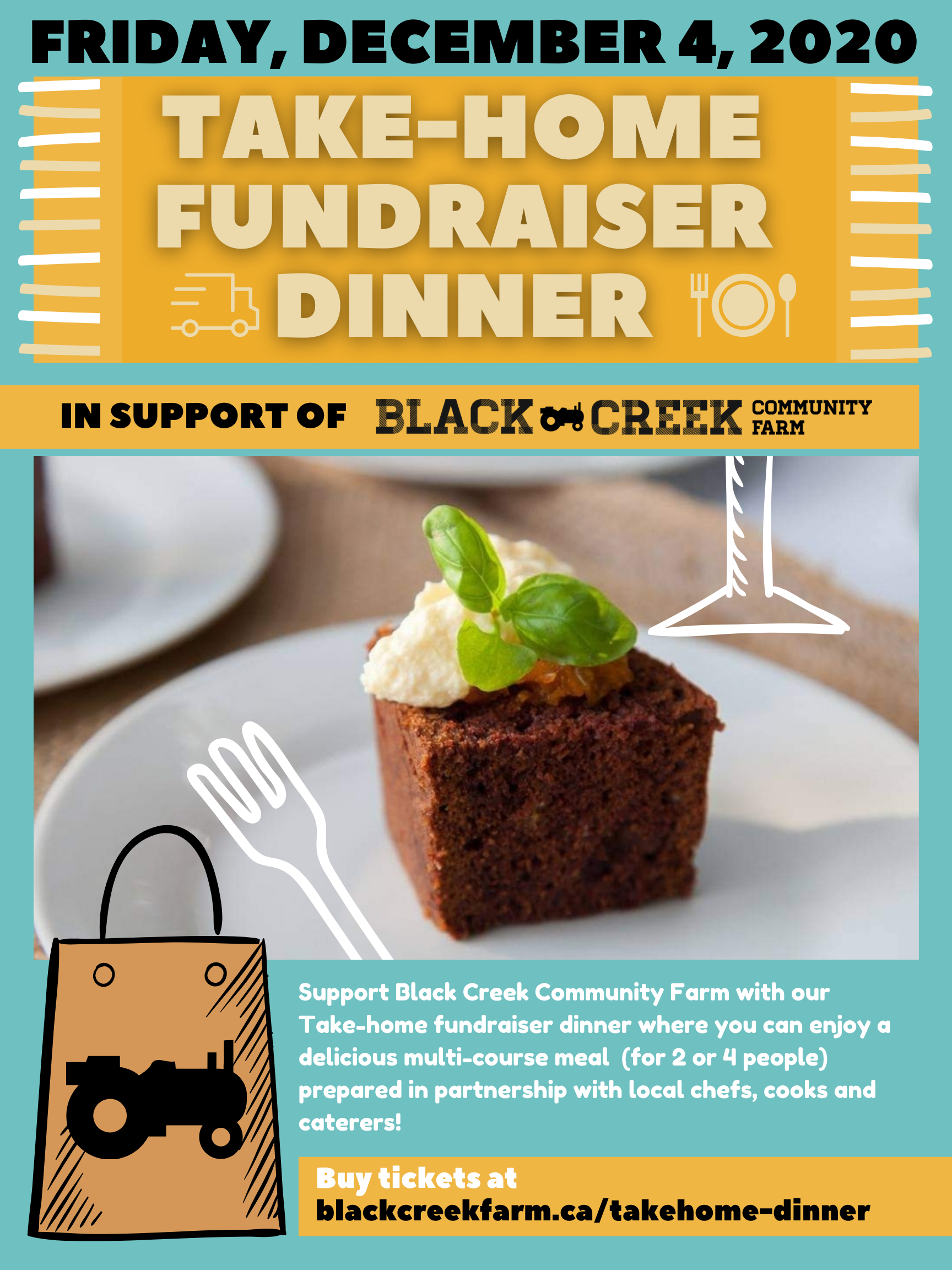 This one-of-a-kind fundraiser for BCCF welcomes your support so we may continue to build our community and thrive beyond this pandemic. By purchasing meals, you are contributing directly to our ongoing work towards food justice in 2021.
Each meal will be served with a bottle of wine or alcoholic/non-alcoholic beverage locally sourced in Ontario. Our chefs cook with organic produce and fresh ingredients grown on the farm to prepare their menu especially for our guests.
Purchase your ticket today!
We have various options for you to purchase your meal:
Meal for 1 : $ 125 – a meal for 1 person with alcoholic/non-alcoholic beverage
Meal for 2 : $ 200 – a meal for 2 people with alcoholic/non-alcoholic beverage
Meal for 4 : $ 350 – a meal for 4 people with alcoholic/non-alcoholic beverage
Community ticket : $ 200 (meal for 2) – purchase a meal for community members in Jane and Finch.
A full tax receipt will be issued for community tickets. 
Meat, vegetarian, gluten-free and vegan options will be available.
Each menu item will be designed by chefs, cooks, and caterers who are preparing the meal based on your meal preference and dietary restrictions.
Meal pick-up spots 
We will have multiple designated pick up spots across the GTA where you will be able to pick up the dinner meals.
Confirmed locations at the following major intersections :
Danforth Ave / Greenwood Ave
Don Mills / Eglinton Ave E
Jane St / Lawrence Ave W
Keele St / Eglinton Ave W
Islington Ave / Dixon Rd
Kennedy Rd N / Williams Pkwy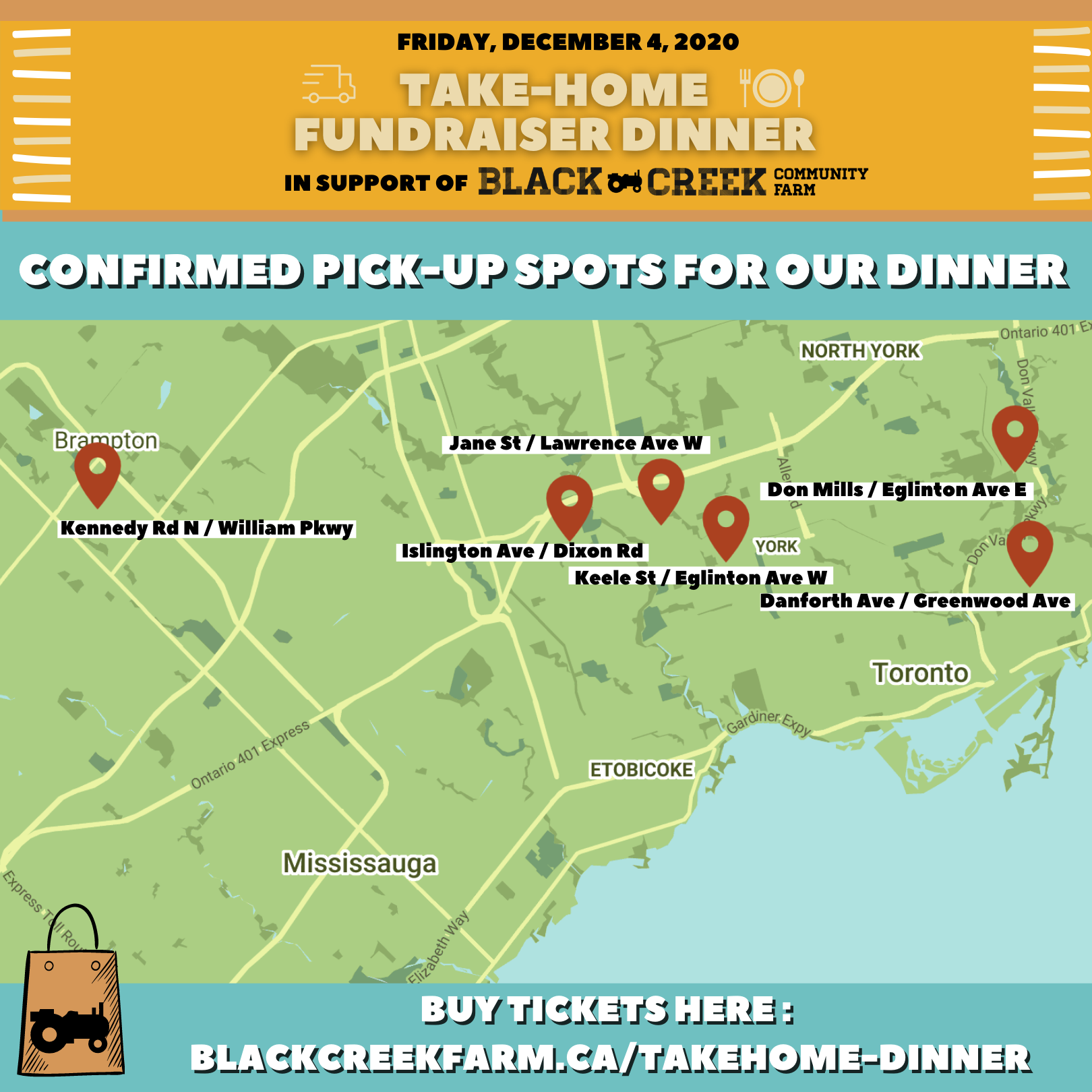 Exact addresses for pick-up for delivery will be provided ahead of the dinner. Please note door-to-door delivery not available.
Our chefs, cooks, and caterers!
We are excited to announce our chefs, cooks, and caterers join us for our Take-home Dinner:
Chef Adrienne Panis, Kitchen Ventures
Chef Angela Toussaint, First Fruits Catering
Chef Bashir Munye
Candace Esquimaux, Candace Catering
Chef Evis Chirowamhang, Mnandi Pies
Chef Joshna Maharaj
Chef Kwame Afriyie-Nsafoah
Chef Mahamed Elmi, Istar Restaurant
Chef Suzanne Barr
Vanessa Ling Yu, Director caterToronto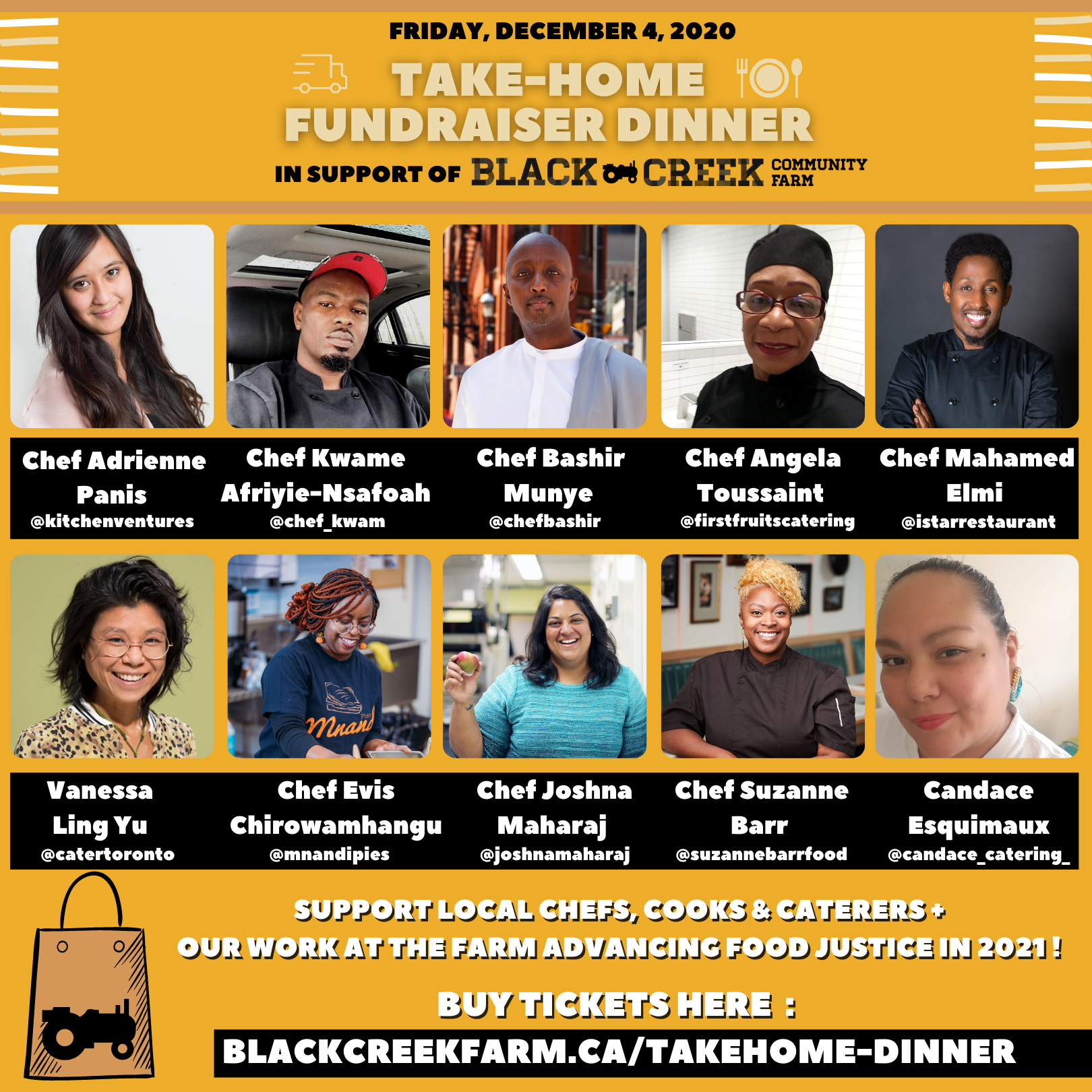 Sponsor our take-home dinner
If you know of an organization or company interested in sponsoring this dinner, contact us at info@blackcreekfarm.ca to support. We are looking forward to hearing from you!