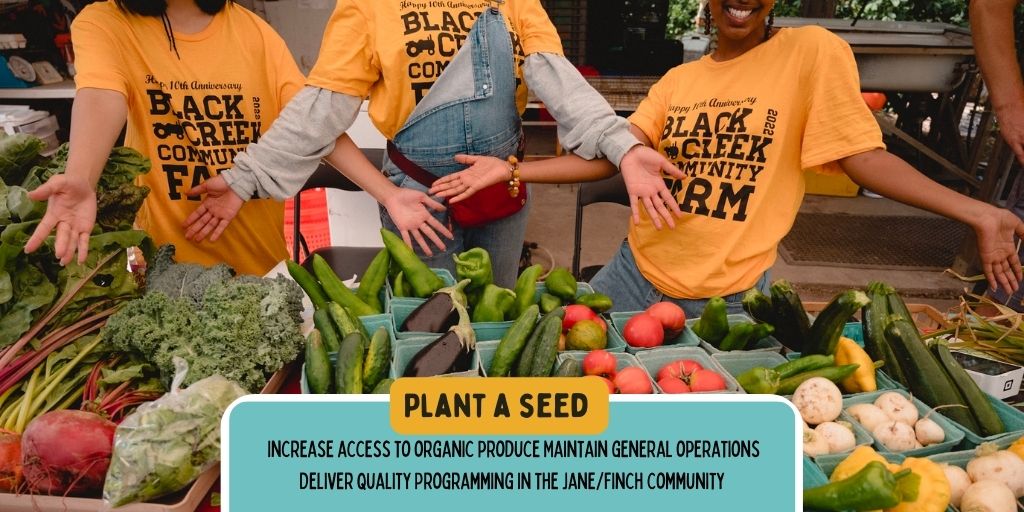 We are excited to announce the launch of our 'Plant a Seed' campaign to support the works of Black Creek Community Farm. As you know, our organization is dedicated to providing fresh and locally grown produce to our community, making programs and workshops accessible to low-income families, while promoting sustainable agricultural practices.
Over the years, our farm has become an integral part of the community, serving 6,300 community members through our school trips, workshops, programs, and events. Our Harvest Share Program is committed to making farm-fresh vegetables accessible to the residents of Jane and Finch community, at a time when the cost of food has increased immensely.
As a non-profit organization, we rely heavily on the support of donors like you to continue our important work. Your donation will go towards our operational funding, and help us cover the costs of essential equipment, core programming, as well as salaries of our dedicated staff members. With your help, at BCCF we can maintain our current operations and have the chance to expand our reach within the Jane and Finch community.
Please consider making a donation so that we can keep BCCF open and continue to provide the support that our community needs now more than ever. All donations over $10 will receive a tax receipt.
Throughout the month of May, we will be sharing content on our social media platforms and keep you updated on our progress.
We are grateful for your support and for helping us plant the seed of change to grow a brighter tomorrow.
Warmly,
Ohemaa Boateng 
Executive Director, Black Creek Community Farm