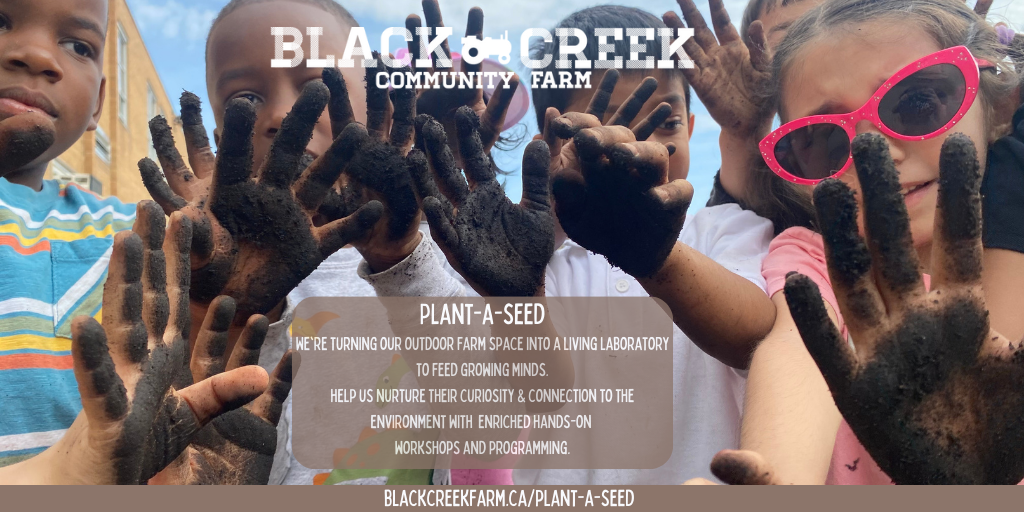 Our 'Plant-a-Seed' campaign is back just in time for school! At Black Creek Community Farm, we are on a mission to transform lives through the power of experiential learning. We're not just a farm, we're a hub of empowerment, a catalyst for change, and a place of opportunity.
Last year, BCCF Farm Education Program touched the lives of 3267 children and 287 youth, with 80% of them hailing from local schools in the heart of the Jane and Finch community. As we stride into the 2023 school year, we've already served a total of 2689 participants, and our ambition soar higher.
But we're here today not just to recount our achievements, we're here to rally your support for an even brighter future. We are launching a heartfelt campaign to meet the growing needs of our community, and to ensure our life-transforming programs are accessible to those who need them most.
At BCCF, we are proud to stand the pillar of exclusivity, offering subsidized fees to local schools within our catchment area. We believe that every child deserves a chance to learn about our food system and land stewardship.
To continue our mission, we need your support. We need the right education tools to spark curiosity, spacious classrooms to inspire creativity, Farm Lab to allow microscopic explorations and more experienced educators to guide our youth toward developing a deep connection to the land. With your generous contribution, we can ensure that our program remains accessible, all year round, for the youngest members of our community.
Join us in nurturing self-esteem, building confidence, fostering environmental stewardship, and access to outdoor classrooms. Together, let's empower the next generation to reach great heights. Your donation today, no matter how big or small (donations over $10 will receive a tax receipt), will be an investment in a future where every child's discovery and connection to fresh food and land sustainability is nurtured and realized.
We are grateful for your support and together, we can make it happen.
Warmly,
Ohemaa Boateng 
Executive Director, Black Creek Community Farm