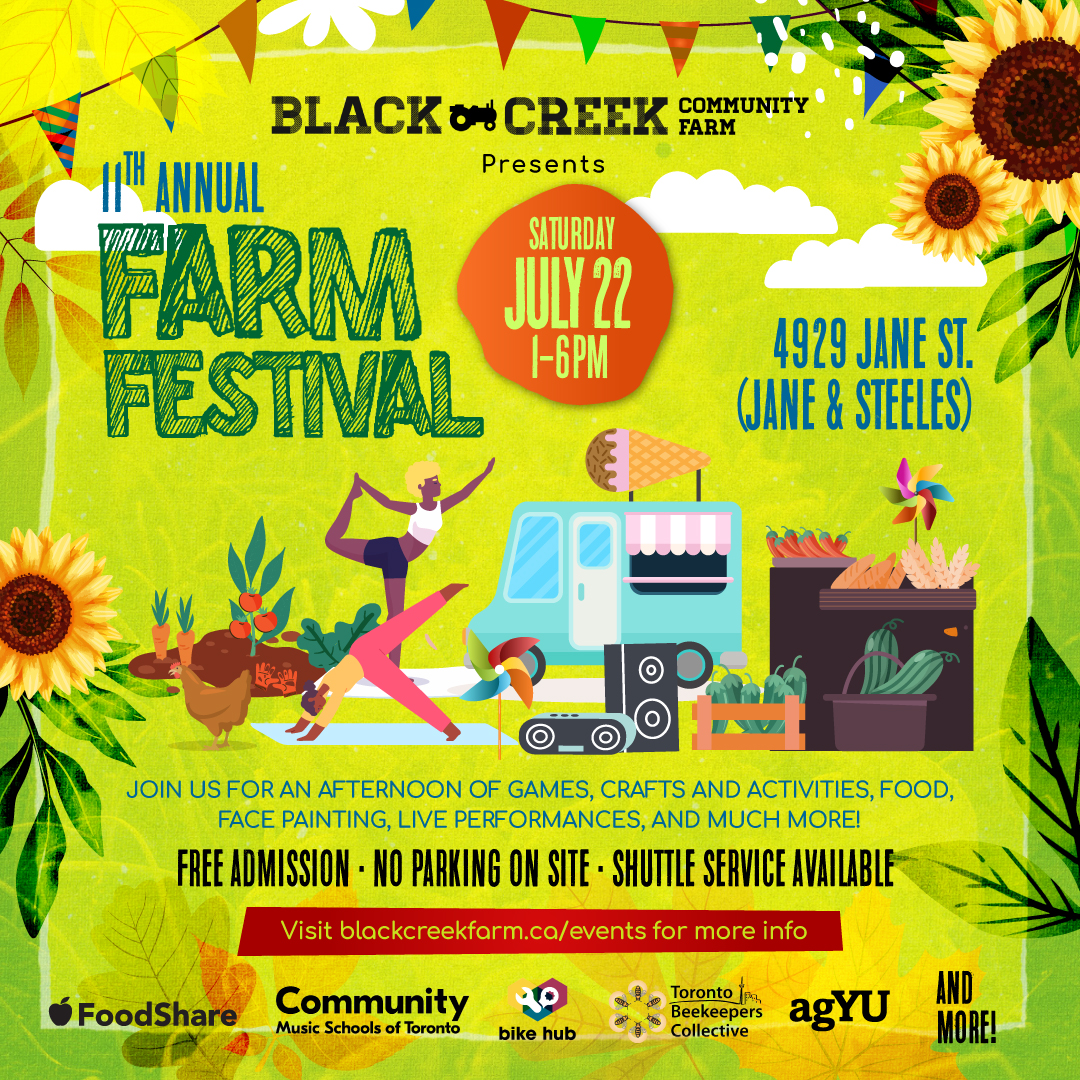 Event details
July 22, 2023
1:00 pm - 6:00 pm
Celebrating its 11th year, BCCF's Annual Farm Festival is a community staple as it celebrates community and urban agriculture which includes a day of fun activities for families to enjoy.
This year, we have an exciting lineup of community partners, vendors, food, crafts, games, activities and live performances!
*
WHEN: July 22, 2023
TIME: 1PM – 6PM
WHERE: 4929 Jane St
*
FEATURED PARTNER BOOTHS: FoodShare Toronto, Toronto BeeKeepers Collective, Sweet Grass Roots Collective, Community Music School of Toronto, Toronto Community Benefits, CultureLink – Tobermory Bike Hub, City of Toronto, Black Creek Pioneer Village
*
LIVE PERFORMANCES:
As part of Arts in the Parks, Art Gallery of York University (AGYU) showcases:
Performers: Tara Lord, Kibra and Dynesti alongside fellow emerging artists.
Hosted by: Marlon Palmer
*
FEATURED FOOD & DRINK VENDORS: Da Endz Restaurant, Classic Juice Co., Hummingbird Patty Shop, Mamey Tamales, Afro Treats
*
OTHER BUSINESS VENDORS: Mooi Skin, GN Fashion & Accessories, Sweet Jinger
*
FREE SERVICES:
Get your bike fix at the CultureLink Bike Hub!
Get a haircut from Supreme Clientele Barbershop!
Hair braid up with Yankee Goddess!
*
FITNESS ACTIVITIES:
Yoga Session with Jigna Fadia in the food forest.
Zumba with Chavenne
*
SHUTTLE BUS SERVICE:
Pick Up Locations:
Jane-Finch Mall | 12:30pm, 1:30pm
Pioneer Village Station | 1:00pm, 2:00pm
*
Drop Off Schedule:
Jane-Finch Mall | 5:30pm, 6:30pm
Pioneer Village Station | 6:00pm, 7:00pm
*
*****NO PARKING AVAILABLE ON FARM SITE*****