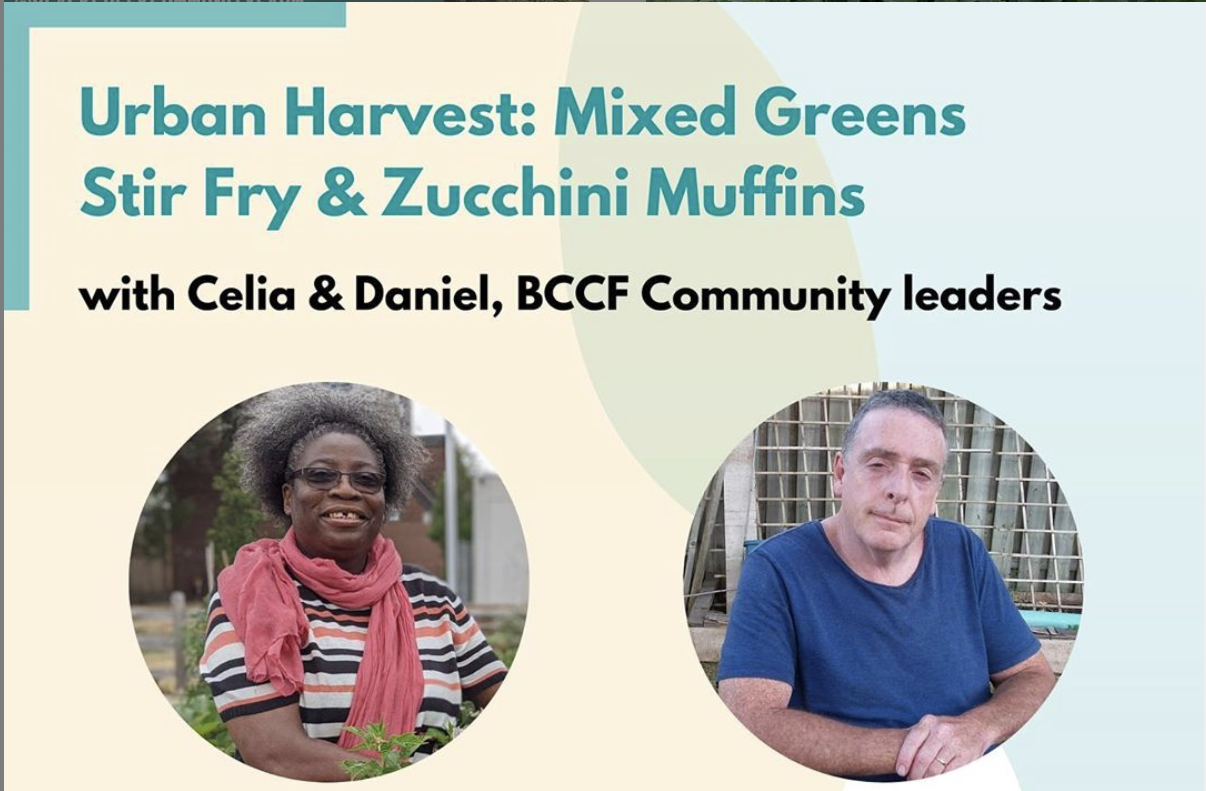 #Urbanharvest workshop: Mixed Greens Stir Fry & Zucchini Muffins !! Presented by our amazing Community Leaders, Celia & Daniel
This workshop took place live on Zoom, at 2pm EST, Wednesday July 22nd.
Celia Smith the founder and director of the Jane Finch Youth group for over 14 years working with children and youth in the neighbourhood. Also, she enjoys community gardening and takes care of the Driftwood Parkette Community Garden as a co-coordinator. She loves to preserve produce and herbs from her garden in the summer! Her mixed greens stir fry combines kale, swiss chard, callaloo and shrimp together which are all items from her freezer.
Daniel Cosgriffe is a community leader active in the Jane & Finch community who spends time with his family including his daughter. His culinary career has taken him to different parts of the world eventually leading him to become a pastry chef. His knowledge about the art of patisserie is unparalleled. His political activities with the International Socialist and cooking education have helped him to stay critically informed and also make a tasty healthy meal. He will show us how to make zucchini muffins which are in season right now.
They talk a bit about the traditions of their recipes, and how these fast recipes are money saving and preservation practices! Watch to learn these recipes, and of course engage in conversations about food justice!
Please REGISTER for upcoming workshops: https://bit.ly/UHform
#BlackCreekFarm #HomeCooking #reducefoodwaste #MealPrep #cooking #videos #foodies #foodlovers #foodblogger #foodlover #stay_at_home #stay_home #stayhome #FoodJustice #BlackCreek #JaneFinch #quarantinelife #quarantinecooking