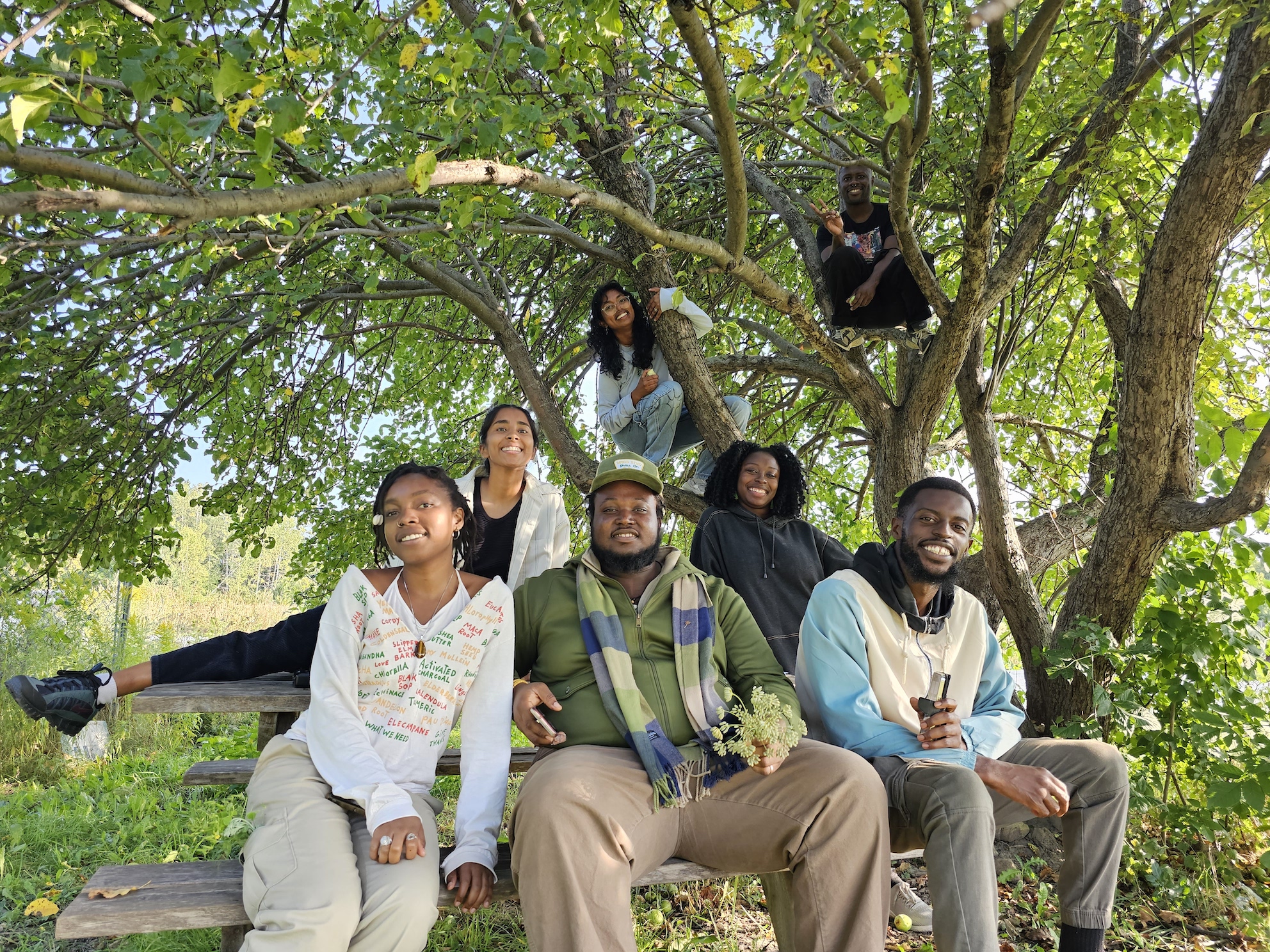 Our Executive Director, Ohemaa Boateng, hangs out under the apple tree with Hansel Igbavboa, Foodshare's Right to Food Campaign Coordinator, Moe Pramanick, Foodshare's Community Mobilization Coordinator, Nathan Baya, Raoul Olou, Sun Ravichandran, and Ehiko Odeh after an insightful tour of the Black Creek Community Farm space
Everyone has a right to food.
We partnered with Foodshare to support the Right to Food campaign, which calls on the City of Toronto to support the development of a new Toronto Food Charter designed by communities like ours most affected by food insecurity, as part of a broader commitment to realize the right to food for everyone. As part of the campaign, we are hosting an artist residency at Black Creek Community Farm for the Toronto Food Stories project. We are collaborating with 3 other community partners: Malvern Urban Farm (Malvern Farm Resource Centre), Emmett Avenue Community Garden, and Healing as One to provide an artist residency for 4 local artists each representing the North, South, East, and West end of Toronto. The artists will be immersed in food justice-related learning through participation in workshops, site visits, and hands-on experiences with organizations working in their local communities and across the city.
The goals of the residency are to: (1) highlight the narratives of organizations that are working to defend the food rights of their own communities. (2) Use the art-making process to bring attention to the urgent crisis of food insecurity in Toronto and how it manifests in different neighbourhoods. (3) Build meaningful connections between artists and community organizers who are working towards building food security in their neighbourhoods.
We are excited to bring the perspective of the Jane/Finch community through Toronto Food Stories and work with the artists to share the stories of the people and movements that are transforming our food system, bringing us closer to realizing our right to food and ultimately achieving food sovereignty.
About the artists
With your help, we were able to select four artists from different ends of the city. Each one's been bringing different energy, talent, curiosities, and knowledge to the group and we're super happy to be able to work with them. A bit about them below: 
Nathan Baya (North)
Nathan is an artist, songwriter, and performer born and raised in Toronto, Canada. Baya's parents immigrated to Canada from the Democratic Republic of Congo. His cultural heritage has influenced his musical sound and through his electrifying energy, he has performed on over 100 stages. Nathan's music is available across streaming platforms, with songs like 24, Mi Amor, and Wavy.
Raoul Olou (South)
Raoul is a multidisciplinary artist based in Toronto. He creates work that references personal experiences, race, ontology, intuition, and shared anthropologics inspired by quantum physics and speculative fiction. Formally trained filmmaker and a self-taught painter, Raoul has exhibited at the Museum of Contemporary Art, Mark Christopher Gallery, Patel Brown, and the Run Gallery. He has been commissioned on several large-scale mural projects all over the Greater Toronto Area.
Sun Ravichandran (East)
Sun is a Neurodivergent, Nonbinary, Queer Tamil Artist, from a farming village in Tamil Nadu, raised in Scarborough. The art they make the most are drawings, paintings, and sculptures. Sun's work is heavily inspired by their Tamil heritage, nature, and their relationship with all beings.  
Ehiko Odeh (West)
Ehiko is a multidisciplinary artist from Lagos, Nigeria currently residing in Toronto. Her practice is deeply rooted in spirituality and fuelled by the essence of play. Some themes she explores in her work include decolonization, coiffure, ethnobotany, memory, and play. She makes use of a wide array of found or up-cycled textiles while paying homage to traditional Nigerian craftsmanship, particularly through large-scale multimedia paintings, textiles, performances, drawings, and installations. 
Stay tuned to learn more!