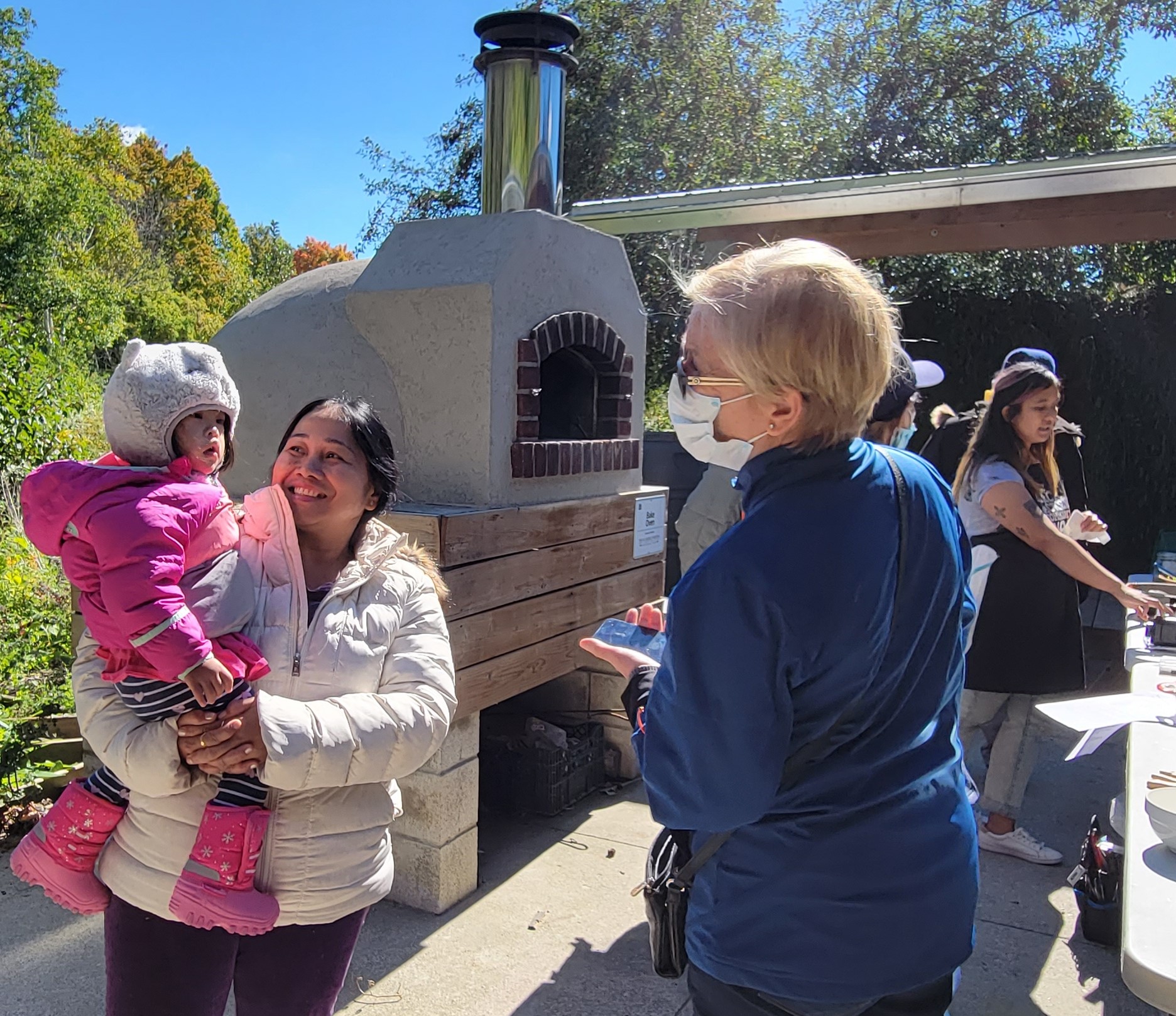 What a lovely sight to look at! Intergenerational interaction and learning from the "Fall Cooking Workshop with Chef Adrienne Panis" on September 29. Our seniors had a chance to mingle with younger parents, speak to their kids, and welcome others in the community. 
Twelve families from the TCDSB Parenting and Family Center came to the farm for the first time and they were super delighted! Opportunities like this give a chance for families to gather and learn and also help our seniors be engaged and reduce social isolation. These are warm memories they can remember as we wrap up some programs and head into the colder season. 
Try one of the recipes we made with Chef Adrienne below. For the freshest vegetables, come check out our farm stand every Thursday, 2-7 pm at BCCF. We sell fresh organic produce – perfect ingredients for your gatherings! 
Roasted Vegetable Salad
INGREDIENTS
Roasted Vegetables:
1 squash, peeled, seeded and chopped

2 carrots, peeled and chopped

2 turnips, peeled and chopped

2 cloves garlic, minced

3 tbsp maple syrup

3 tbsp olive oil

1 tsp salt

1 tsp pumpkin pie spice

½ tsp pepper
Vinaigrette:
1 shallot, finely chopped

½ cup olive oil

¼ cup apple cider vinegar

1 tbsp maple syrup

1 tbsp grainy mustard

½ tsp salt

½ tsp pepper
Salad Assembly:
1 tbsp olive oil

1 bunch kale, trimmed and chopped

6 cups salad greens like spinach/arugula/mixed greens

2 cups cooked grains like farro/quinoa/barley/wild rice

1 apple, chopped

½ red onion, thinly sliced

½ cup toasted pumpkin seeds (pepitas)

½ cup dried cranberries
DIRECTIONS
Preheat the oven to 425°F. Line a large baking sheet with foil. Place chopped squash, carrots, turnips, and garlic on a baking sheet, then drizzle with the maple syrup, olive oil, salt, pumpkin spice, and pepper. Toss together until evenly coated then spread onto an even layer on the pan. 

Roast for 25-30 minutes until roasted and golden. Mixing and rotating the pan halfway through baking. Cool slightly. 

Meanwhile, place all vinaigrette ingredients in a bowl or mason jar and stir until combined. 

To assemble, place kale in a large bowl, drizzle with olive oil and massage the kale with your hands until bruised (this helps the kale become more tender, and easier to eat and digest). 

Add the salad greens, cooked grains, chopped apple, red onion, dried cranberries and half the vinaigrette, then toss together to coat. 

Transfer to a serving bowl/platter. Add the roasted vegetables and toasted pepitas, and remaining vinaigrette. Serve immediately.
Notes:
Agave or honey can be used in place of maple syrup. 

You can use your favourite vinegar or fresh lemon juice instead of apple cider vinegar. 

Use any dried fruit in place of the cranberries like raisins, dried blueberries, or even dried apples!