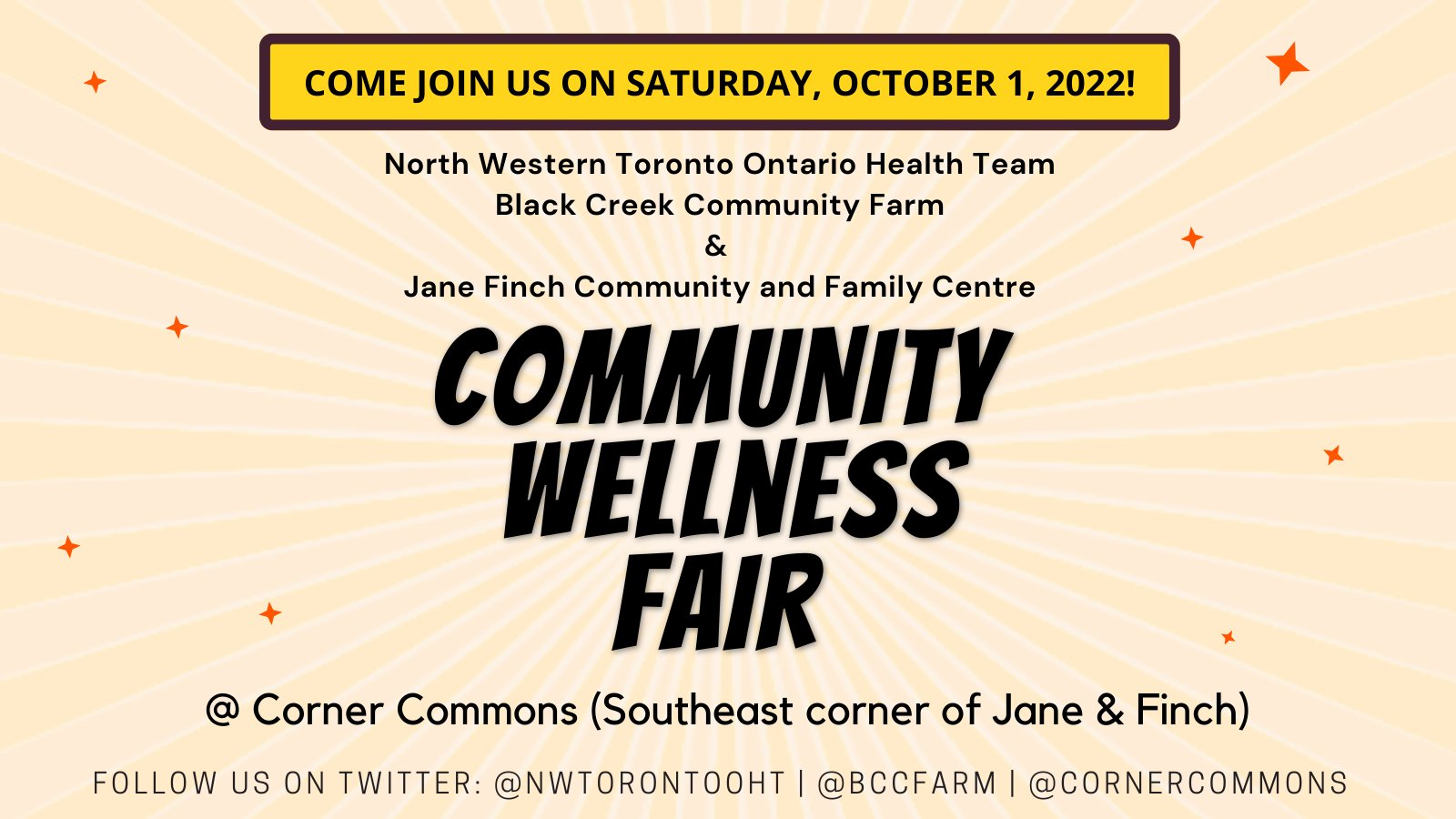 Black Creek Pop-Up Market & NWT OHT Community Wellness Fair
Saturday, October 1: 12:00 PM – 5:00 PM (EST)
Corner Commons (southeast corner of Jane & Finch Mall): 1911 Finch Ave. W., Toronto ON, M3N 2V2
Please mark your calendars! Alongside the next and last Black Creek Pop-Up Market, the North Western Toronto Ontario Health Team (NWT OHT) is hosting a Community Wellness Fair. These 2 joint events are organized in collaboration with Jane and Finch Family and Community Centre and the Black Entrepreneurship Alliance.
Community Wellness Fair:
Come out to learn more about NWT OHT and their community partners and receive health and wellness education & resources, including:
COVID-19 vaccines through Toronto Public Health

Blood glucose and pressure checks through Black Creek Community Health Centre

Cancer screening education and information by Humber River Hospital
There will be plenty of activities for children and youth, making this an event suitable for all members of your family! 
Black Creek Pop-Up Market Vendors:
Vendor bios:
13 SUNS Ethiopian/Eritrean Vegan Cuisine + Mocean & Mineral
13 SUNS is an Ethiopian plant-based food business serving authentic Ethiopian/Eritrean recipes. This business started in late 2020 as way to increase the variety of unique vegan options within the GTA. Our sister brand "Mocean & Mineral" is an organic sea moss brand that highlights the benefits of sea vegetables and minerals. We incorporate these superfoods in our fresh juices.
I am currently in the process of creating my own food business and want to use this opportunity to see if people are interested in this fusion Caribbean mixed food. I am not professional trained but I enjoyed cooking and wanted to use my talent to generate an additional income for my family. I often usually do private catering and meal plans for close families and friends.  
The Abibiman Project
The Abibiman Project is a celebration of the diverse and unique flavours of the African continent. I was started as a form of protest against the misconceptions of Black people and the lack of representation of our food culture. As a chef and pastry chef, I can combine my experience and a desire to give back to my community. We offer spice blends, sauces, coffee, tea and sweets all made with traditional African recipes, indigenous African ingredients and chef inspired preparation techniques. We also do pop-up dinners, catering and classes. A portion of our profit is donated to Afri-can Food Basket to further support Black food sovereignty locally and strengthen the ties between food and culture in the local Black community
AfroTreats
Afro treats is a company that manufacturers snacks of African origin with a global flavour fusion twist. We got into the business when we saw a gap with no African snacks on mainstream retail shelves and we are on a mission to showcase the rich culture of Africa and positively tell the African story through the snacks we make.
Mehetta Bammies
Mehetta Bammies is a Canadian food producer with Caribbean roots that provides consumers looking to experience the real taste and culture of the Caribbean with freshly made Caribbean bammies, crafted in a variety of original flavours, from the freshest ingredients.