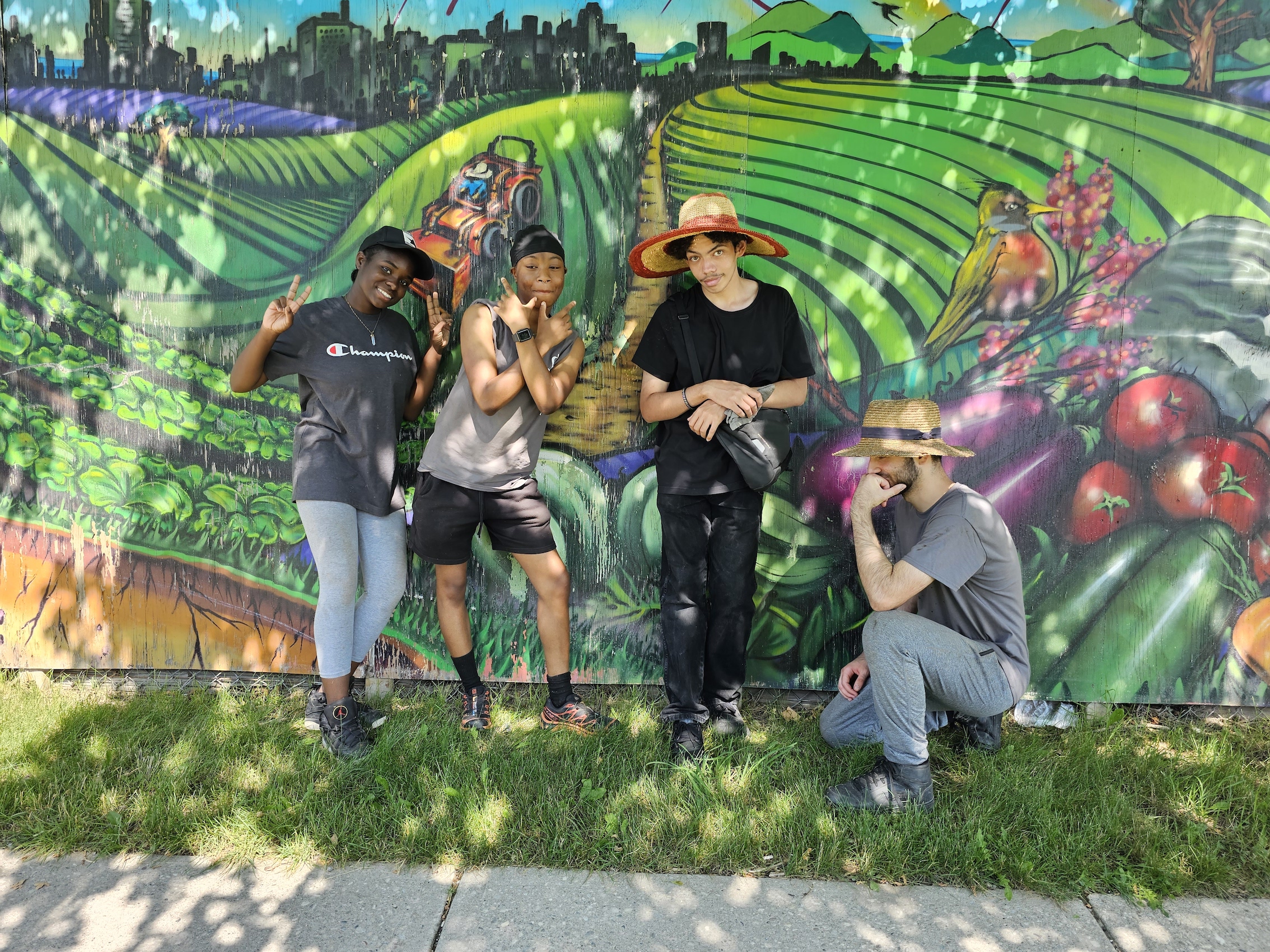 From left to right: Dejuanzah, Re, Kayden and Khaled
Hi, my name is Dejuanzah and I was one of the summer staff at the Black Creek Community Farm (BCCF). I started working at the BCCF this summer during school break. I wanted to do something meaningful during the school break, so my focus was finding a summer job and my teacher told me about the school job postings. I filled out the required application. Then I did my resume and submitted it at the interview. Two weeks later, I received an email that I got the job. I was happy because it was my first job, and what better place to start than to work on a farm, where there are many interesting things to do and learn about.
My hobbies are traveling, playing instruments such as the acoustic guitar, piano, and the flute, also listening to music as it helps me to relax. At times I like to edit videos for fun but the majority of the time I like to do my hair and go out with my friends to shop or watch a movie. I am interested in many things but mostly dancing ballet and hip hop. Recently I have been learning to cook. I am also practicing figure skating during the winter and volunteering to help the elderly and young children with their assignments. 
At the farm, I completed a lot of tasks such as helping to make the plants, flowers, and grasses grow healthy and strong. I did some fieldwork in the market by removing all the prickly plants and weeds so that the plants could be fertilized properly. I planted lettuce in the morning by digging into the dirt and applying compost and water to keep them fresh. I also shoveled out the chicken manure into a wheelbarrow and added it to our outdoor composting system. When the compost is ready, we then add them to our learning gardens. 
I had a great time helping the team prepare for the farm festival. I worked with Bashir to cook some meals. I got to bake bread by making the dough, rolling it in a circle to then bake our outdoor brick oven. While the bread was baking and also helped to make different sauces. 
I also got the opportunity to work with Hermmela to support the senior's garden program. We were running a garden program in one of the senior buildings in the neighborhood. We started by building new garden beds, growing food with the seniors, making meals food, and learning about food and nutrition in the senior auditorium. Every week I would deliver bags of vegetables at their door because some seniors are not able to walk to the farm to purchase their fruits and vegetables. 
Every week, Rachael and I went to the Greenwood company and other stores to deliver Harvest Share bags, which are bags of fresh vegetables grown at the Black Creek Community Farm. Then we would make delivery of compost to a local store. I thought that was pretty cool.
One of the most useful things that I learned at my placement is how to work together as a team to get the job done accurately and effectively. The most challenging part of the job was determining which plants should be weeded out and which plants should stay. My least favourite thing to do at the farm was being at the market because sometimes a customer cannot make up their mind as to what they want. My favourite thing I got to do at BCCF was getting to learn the different crops and helping to plant the vegetables. 
---
To learn more about our:
Student Placement Opportunities, click here
Employment Opportunities click here
Volunteer Opportunities, click here
Or sign up for our monthly newsletter to stay in the loop