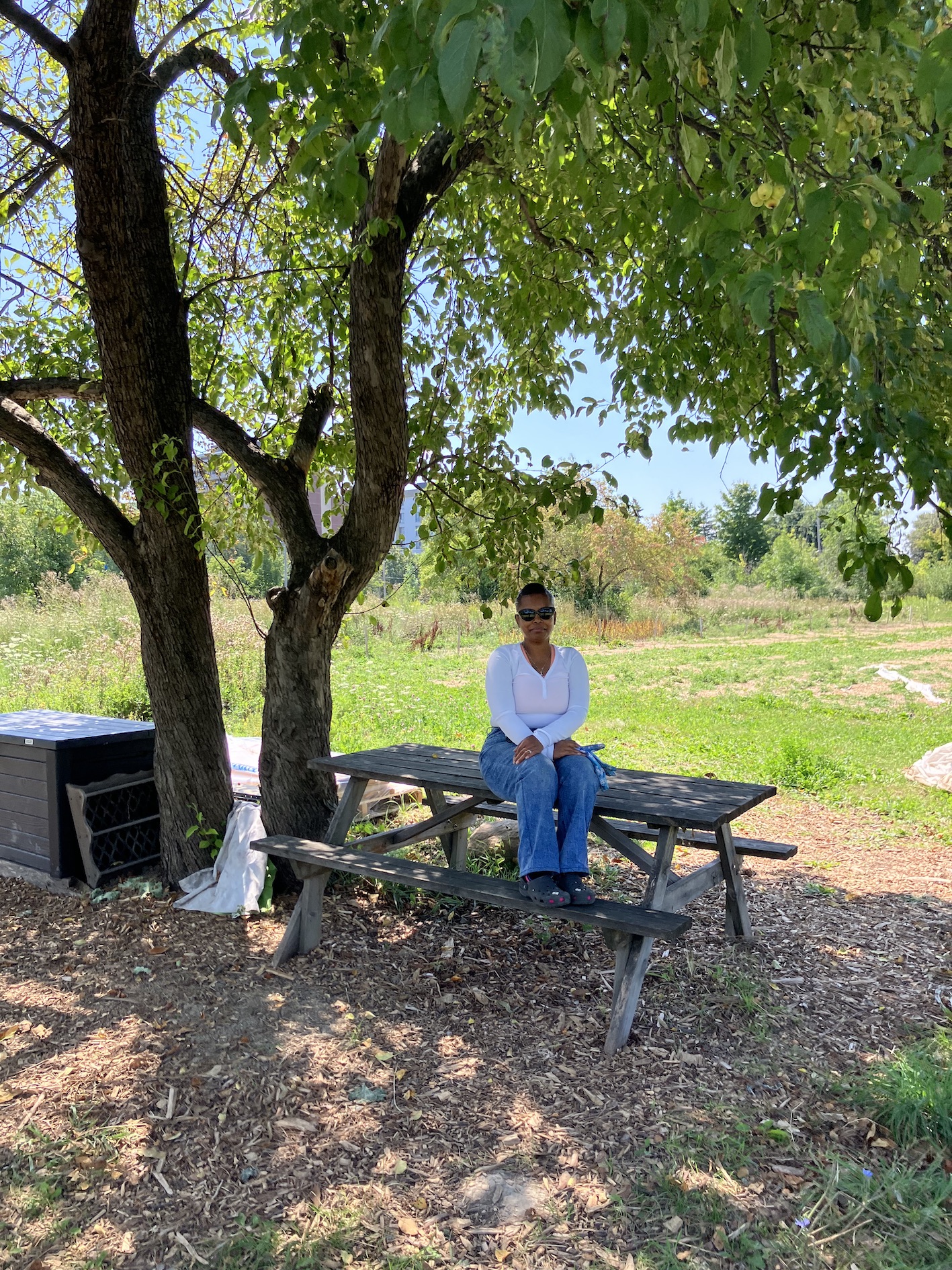 My name is Dolly, and I was thankful for the opportunity to have my placement at BCCF. 
I started a pre-employment course at the Rexdale Community Centre for racialized women of color, and one of the requirements was for me to complete 104 hours. The opportunity for placement at Black  creek Community farm came to me unexpectedly. I was not certain of what exactly I would be doing or  what to expect at the "farm".  
I took on the challenge and thought that this is something new and I'm excited to understand and see  what the farm experience will do for me. My time with BCCF entailed of 2 days' work from home and 3  days on the actual farm. 
My background is Guyanese and of course in the Caribbeans we are used to fresh vegetables and fruits,  or maybe I should say everything fresh! I grew up eating a lot of vegetables and everything was always fresh, especially because my dad had his own garden. A couple of years ago, I started to plant and grow  some flowers and cherry tomatoes. To my surprise I enjoyed it and what I planted grew. 
The first day on the farm I planted Napa cabbage. With the composed soil I placed 1 seed in each  section of the crates. By the second week they started to sprout! I was so extremely happy. I also  enjoyed taking out the weeds that were around some of the vegetables so that they could not hinder  the growth of the vegetables. The farm is a beautiful place with fresh air and beautiful greenery. The  rows of vegetables and how they flourish made me learn to appreciate them even more and the  individuals who take their time to plant and care for them. 
Harvesting for the market was very fun and rewarding, also washing, counting and preparing the  produce for sale and for preparing bags for the seniors and individuals who have subscribed to BCCF's Harvest Share CSA.
I took part in several workshops; school trips, where camps from different schools came to the farm for  a couple hours and got a tour and participated and was educated on what we do on the farm. Most of  the children enjoyed picking the garlic straight out of the ground – even I enjoyed doing that. Another  workshop was Urban Harvest Community Preservation Workshops. Here we were educated on the importance of not wasting surplus produce but using it to cook meals together and how to preserve it also. The best part was connecting with the women and enjoying food together. Another workshop which I enjoyed was visiting the seniors where every Wednesday BCCF (through partnerships with Alan Slaight Fdn and Mother Raw) provides fresh produce to these individuals. On one particular Wednesday  we got the chance to visit some of them and participated in making carrot soup and quoina salad for  them. I connected with a lot of the seniors and enjoyed the time that I was given to be involved with an  amazing group of women who cared to give their time to the seniors. 
The Thursday marketplace from 2-7pm where we set up and sold to the local community was incredibly rewarding. To meet and have conversations with some of them and to hear how much they love the farm and what an  impact the farm has had on them in regards to wanting to eat fresh organic and live better and healthier lives has made them very thankful. Having a background in sales made me feel very comfortable to sell  and explain what produce can be good for you and how it can be cooked.  
My time with BCCF has made me appreciate farmers more and the hard work that goes into growing  vegetables before they go to the stores then to our tables. I'm also incredibly thankful for the team who  are so caring and loving. They take their time with everything and everyone. I will definitely visit the  farm whenever I can. Thank you BCCF for my 4 weeks of placement and I wish you all the very best.