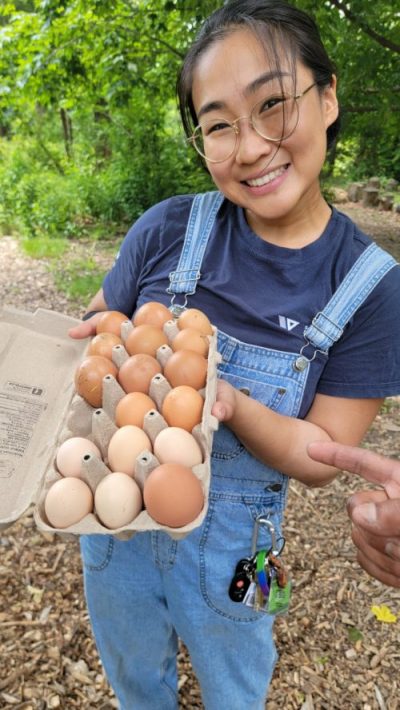 Sophia Hou, a University of Toronto placement student, is the new addition Black Creek Community Farm team. We are always honoured to host amazing placement students from a wide variety of disciplines. Many thanks to Sophia for sharing this biography with us.
Hi everyone! My name is Sophia Hou and I'm very excited to be completing a placement at BCCF this month. My pronouns are they/she; I generally prefer a 50/50 mix of they/them and she/her. I'm starting my second year of graduate school at the University of Toronto in September, completing a Masters of Public Health in Nutrition and Dietetics. I'm also hoping to specialize in health policy and queer health issues.
This placement with BCCF will help me to meet my food provision and management competencies as part of my training to become a dietitian. I chose to do my placement at BCCF, rather than at a hospital or other organization, because of the unique experiences it has to offer. I love being outside, learning from the land, and working with my hands. Plus, BCCF's focus on food security, food justice, and health equity aligns closely with my own values and interests.
I am most looking forward to learning about new types of edible plants and knowledge about food and agriculture! I am also excited to be working outside and doing food demonstrations and workshops. Outside of school/work, I paddle with the Pickering
Dragon Boat Club, knit and crochet, and play the flute. Looking forward to meeting and working with everyone!
Interested in getting involved?
Become a Placement Student Today