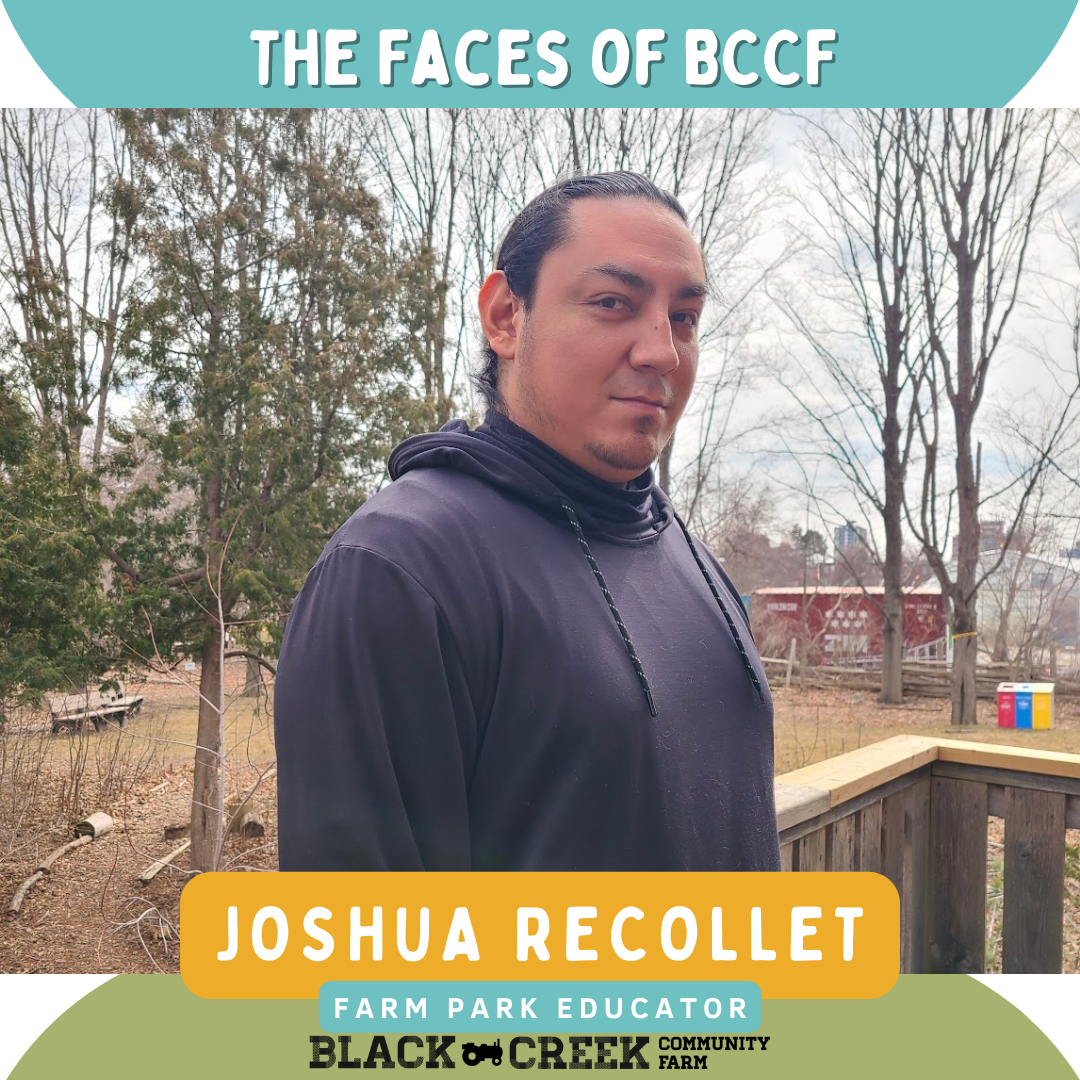 As the sun peaks out and the snow begins to thaw, we appreciate the amazing work, Josh, our Farm Park Facilitator, has done on the ground to help staff and the community strengthen their connection with the land and our food.
Check out his feature as we interviewed Josh as one of the many faces of Black Creek Community Farm.
What is your origin story? How did you become involved with food security or food justice work?
"I had a passion for taking care of the land since I was like 13 or 14. Young. I started creating Medicine Wheel Gardens up north in Sudbury, on different reservations, and at kids/youth centers. I started learning about the medicines from Native healers. They taught me how to grow things, pick things, and harvest things. When to pick and harvest certain medicines because certain medicines if picked you can get sick from them. So I learned when is the best time for certain medicines can be picked. 

So yeah, I always had a passion for just taking care of the land. To find my culture and traditional practice. I always had a connection with the land, and the water. It has always made me feel calm, peaceful, and humbled.

I started very young, so when I heard about this farm here through my mom, she thought I would be a great addition to the farm because I am Indigenous and carry a lot of knowledge and I am always willing to share it. I think the most important thing you can do is share the knowledge that you carry. So that knowledge can carry on for generations to come. I always had a passion to share what I learned, but I am always willing and humbled to learn as much as I am willing to teach. That's what inspires me and keeps me motivated."
What is your favourite spot to work or hang out at the farm and why?
"I would have to say the Welcome Garden reason why is because it's flourished with so many colors, different flowers, different smells, and different themes and there's just a lot to look at when you are there. It's also amazing hanging out in the raspberry lanes. I like picking raspberries and strawberries. I love seeing the little rabbits first thing in the mornings or the wild turkeys walking around there. Besides, the Welcome Garden, you would also find me at the Wigwam or the Children's Garden area."
What is your favourite food memory?
"I don't know whether I should stick to the food or a dessert but I love my cheesecake. It can be Japanese cheesecake or whatever. I can't each too much of it, a little piece is good for me. I eat it with a lot of fruit on top like blueberries, strawberries, blackberries, or cherries. 

When it comes to a homecooked meal I would have to say, Sheppard's pie! I just started making Shepherd's Pie by myself about 5 years ago. It's pretty tough to make but I like to add baby carrots, corn, and peas. I'm not really picky, I love vegetables. And you know after eating, I like to have tea. Nothing special just the regular orange pekoe, steeped, 3 sugars, 2 milk."
What do you like about the work you do on the farm? Or how does the work you do impact the Black Creek community?
Josh – "What I like about my work is just sharing knowledge of the four sacred medicines, tobacco, cedar, sweetgrass, and sage. I find a lot of the community don't know much about the medicine aside from sage. I like being able to incorporate the sacred medicines here on the land and sharing our knowledge behind them. One of my favourite things about this job is that it has actually inspired lots of people to try to make their own gardens, and learn more about the cultural aspects, traditions, and practices like ceremonies: praying, smudging away negativity, or opening up the space for good intentions.  It is also important to me for the community to know that you don't have to be Indigenous to learn this stuff. You can come from any walk of life to learn and share. That's what it's all about."
What's your favourite fruit, vegetable, plant, or tree to grow?
"I love blueberries, but I hear it's been a struggle to grow them at the farm. I also love growing cucumbers. I love cucumbers! So that's something I want to incorporate more on the farm. Watermelons are a good one too."