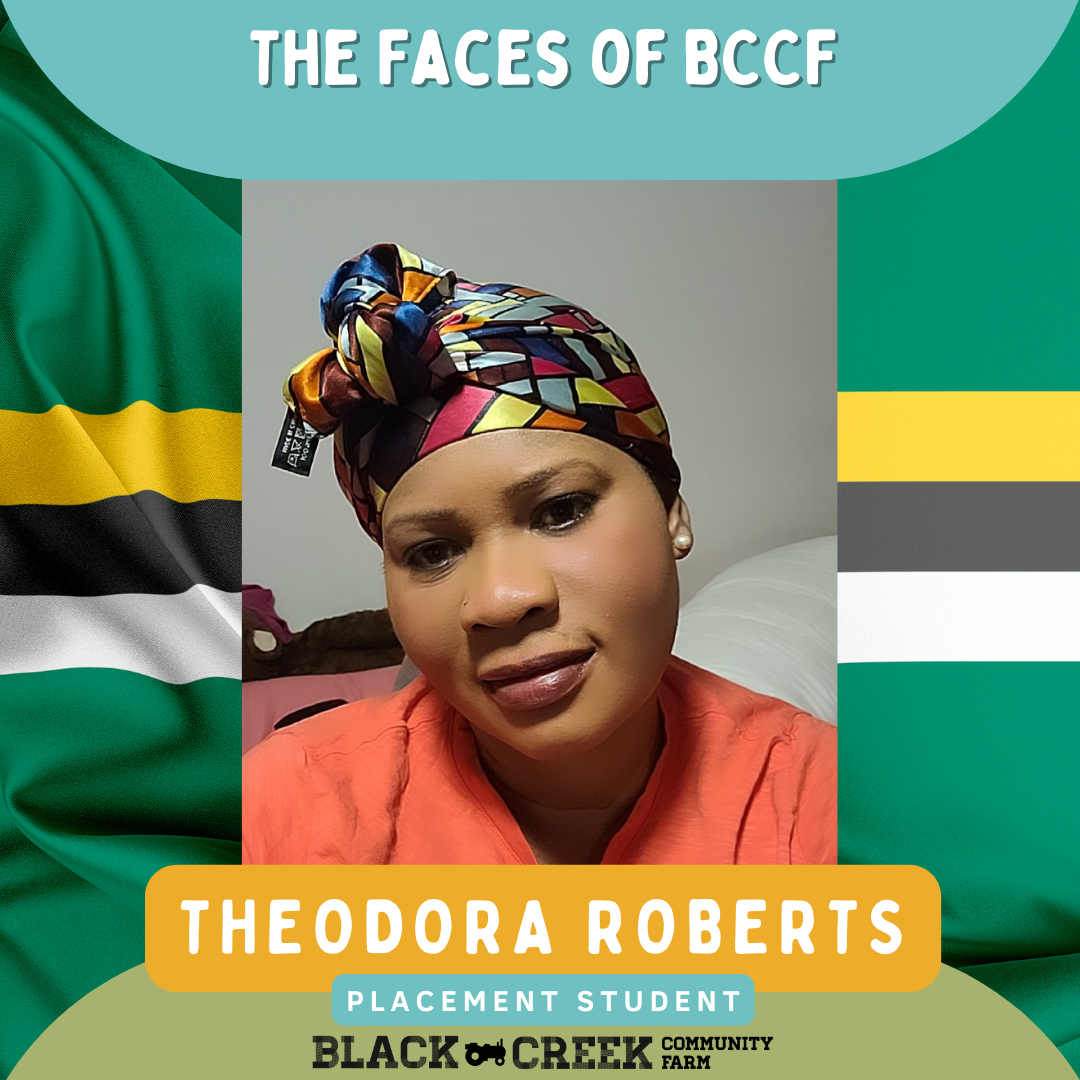 Black Creek Community Farm is honoured to host amazing placement students from a wide variety of disciplines. Many thanks to Theodora for sharing this biography with us.
Interested in getting involved? See our openings for
placement students. 
My name is Theodora Roberts. I was born on the beautiful island nation of Dominica in the Caribbean and raised next door in the country of Antigua. In 2014, I migrated to Canada to start a new life for me and my children. I currently attend the Community Worker Program at George Brown College. While it is a two-year program, I am taking three years to do it because of my ADHD. I chose this program because I'm interested in serving my community, and I have a strong desire to help those with less privilege and power. I would especially like to serve women of colour and help them learn to advocate for themselves when they face barriers. 
My employment and life experience so far has been rich and diverse. And I bring many transferable skills. This includes resilience, self-reliance, good judgment, versatility, and good problem-solving skills. And the ability to overcome difficult challenges by believing in oneself, something I'd like to help others learn, too. My hobbies are cooking, doing household chores, and planting in the summer. 
Because of my passion for farming, when I heard about Black Creek Community Farm (BCCF), I was eager to do my placement there. I have always wanted to be a part of a community farm like BCCF. I was self-employed as a farmer in Antigua and operated a successful farm-to-market business there for four years, growing lettuce, watermelon, butternut squash, sweet peppers, cantaloupes, cucumbers, and green onions. I sold my produce to local hotels, supermarkets and at public markets. In fact, being a farmer was the best job I ever had. I learned many valuable techniques and lessons there that I have carried forward in my life, including how to be both soft and strong, as well as patient. 
So, I would love to continue to develop such skills at Black Creek Community Farm and share them with others, too. Even after my school placement is done, I would be honoured to continue participating at Black Creek Farm in the summertime as well. I am looking forward to learning about growing crops in the greenhouse, which I have never done before. I am also interested to learn more about organic farming which is new to me. It's so amazing to watch those crops grow without fertilizer or pesticides. Lastly, I am looking forward to learning more about the origins of BCCF, and how the farm helps support the local community with their produce.