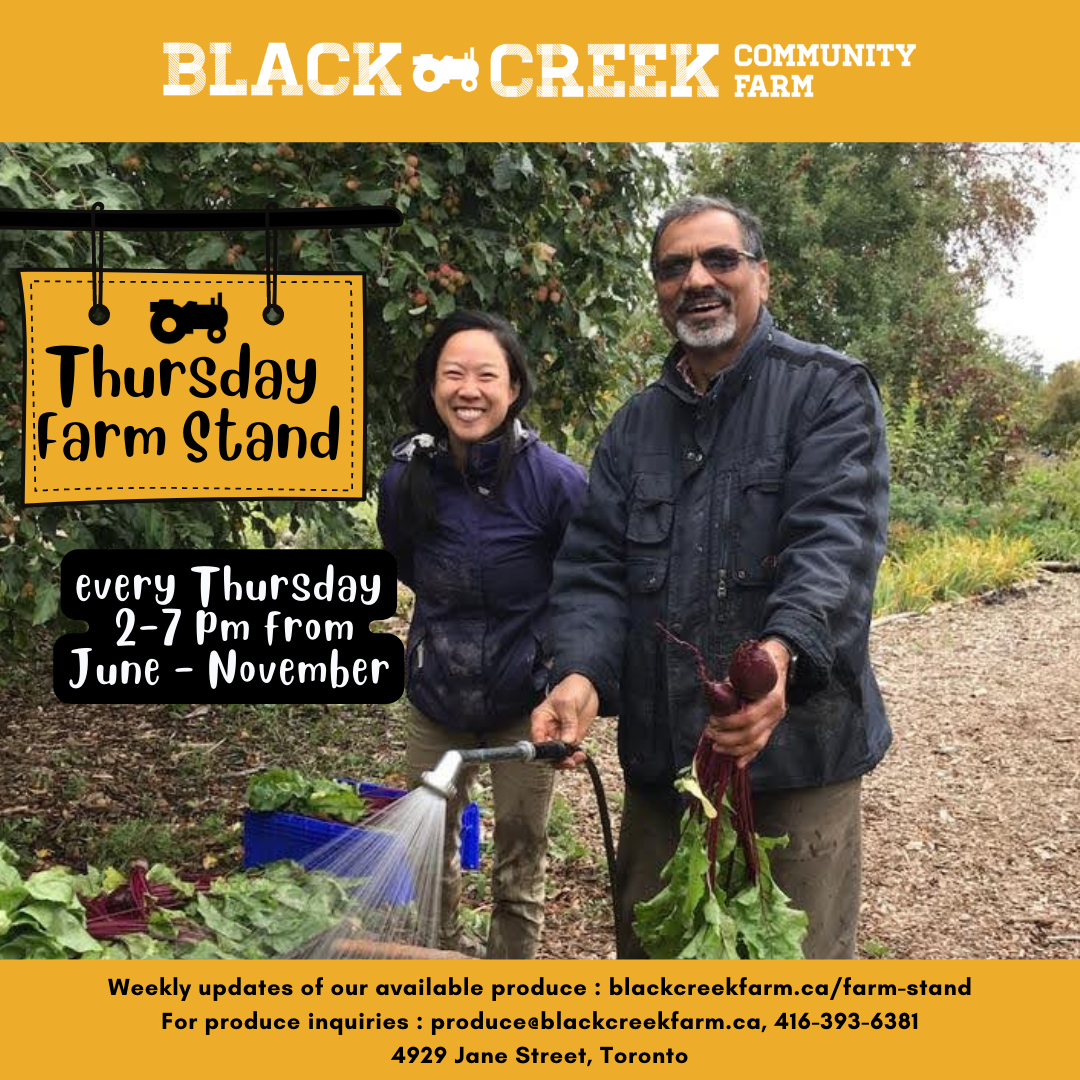 Every Thursday from 2pm to 7pm, we set our table with all that is fresh from the farm that week. At this point in the season, we are typically selling the last of our hot crops, like sweet peppers and tomatoes, first cuts of our fall crops, like turnips, broccoli, bok choy, and spinach, and cured storage crops like squash and garlic – just to name a few! Come by and check it out!
This time is also when we host our Harvest Share pickups – stay tuned for our Fall Harvest Share extension, which will be available for registration soon! 
On Thursday October 6, there are many things happening during the Farm Stand:
We will once more have Guest Vendors at the Farm on Thursday, October 6 from 2 pm to 7 pm. Pick up your veggies, then grab dinner from Kay's Kitchen, pantry items and treats from The Abibiman Project, and a drink from May's Specialties. We will also be hosting Ubuntu Community Collective, who farm "down the road" at Downsview Park.
The farm will also be an Ontario Culture Days event location for artist and writer Angela Walcott to facilitate 2 eco-friendly art workshops at 2pm and 4pm during our Farm Stand! Please register here.
What are our food sources and what do they mean to community members? What kinds of conversations can happen over a shared meal? "The People's Garden" is an Ontario Culture Days 2022 Creatives in Residence project by Angela Walcott which looks at relationships between farming, food, creativity and community,  with the main focus of this project being sustainability and food security. A series of eco-friendly art workshops at Farmer's markets in the GTA, will introduce participants to elements of textile design (textile imprint design); image transfer and eco painting.
Please check out her tent on October 6.