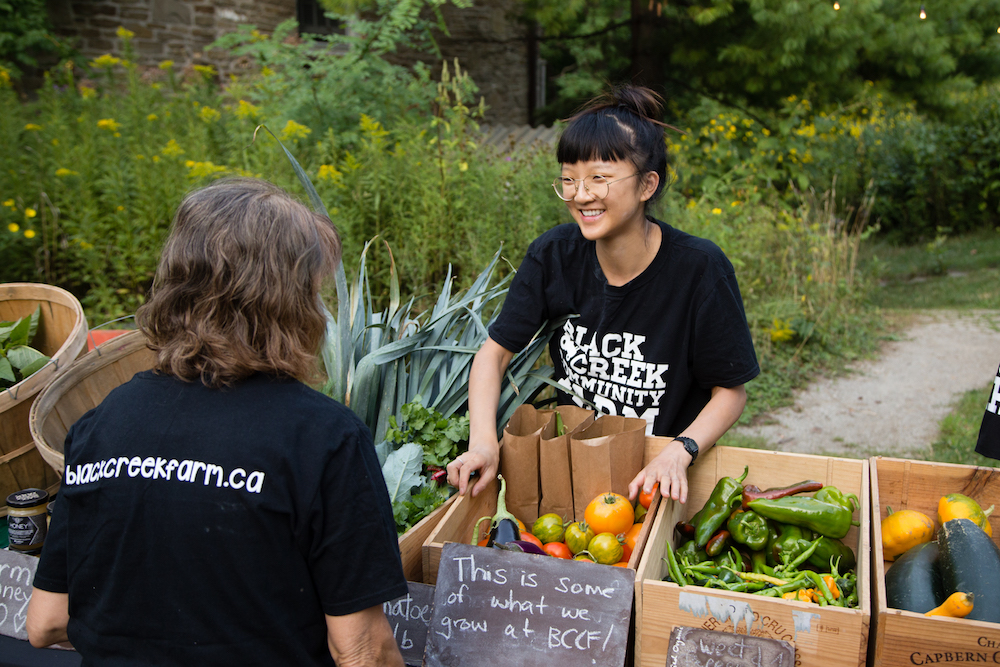 by Stephanie Mak
I moved to Toronto from Vancouver in January, 2019.  I had just finished an apprenticeship on an organic farm on Salt Spring Island and I knew I wanted to gain experience on an urban farm next. When I first moved to Toronto I worked as a florist's intern, at a tea shop, at a hotel, and volunteered in community gardens. It was the dead of winter so it was unlikely I would be farming soon. I felt like I had strayed from my initial goal, but in June I started working as the Market Garden Assistant at BCCF. 
My first day involved paperwork in the morning, and then mulching the greenhouse making sure the tomatoes, eggplants, and  peppers stay moist with straw. Within a few weeks my role expanded to CSA member communications, and running social media for our Market Garden program. I had a lot to learn on my own time!  
What I learned: 
• As an urban farm, staff take time out of daily tasks to speak with members of the public or give tours. Sometimes we would feel pressed for time, but that's the point of having a farm in the city – to engage with community members. 

• I was commuting to the farm for almost two hours each way, and it was a struggle to be involved in community events because the commute was far for me and I was often tired and wanted to go home after work. I would have felt more connected living within the community.

• You can't always do things "by the book" because you need to be aware of the barriers faced by community members and that means being flexible.

• Community members should lead their program groups.

• Working within an organization led by women and people of colour I felt right at home. Their different lived experiences provide a breadth of knowledge for dealing with the nuances of working within the Jane and Finch community.
If you live in Toronto and haven't been to BCCF yet then I highly encourage you to stop by the farm. It's a special place with hardworking people who want to grow food and empower others to do the same.