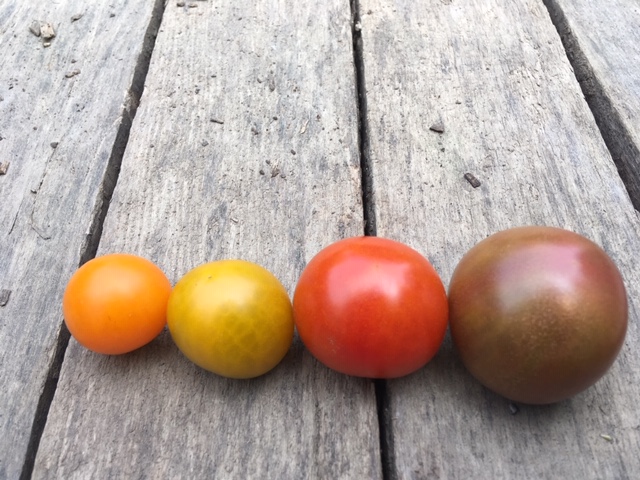 Tomatoes, Eggplants, and Peppers!
Nothing compares to the delicious tomato to mark the arrival of summer! We grow several varieties of cherry tomatoes and slicing tomatoes and we are excited to share them with our Harvest Share members and at our farm store. If you would like to help out with the harvest, you can sign up to volunteer at timecounts.org/blackcreekfarm.
Mix of Kakao, Green Zebra, Pink Wonder, Beorange tomatoes.
The Self Serve Farm Store is Now Open!
Eggplants, tomatoes, peppers, herbs and greens are all for sale in our farm store. We make sure to have accessible organic produce pricing for the community. The store is open 9am to 5pm, Monday to Saturday.
Farm Realities
We've had to deal with pests and diseases such as the Colorado potato beetle, aphids, leaf miner, and early blight. The list can go on as do our efforts to battle them. Pests and diseases can damage the root, leaves, and in the worst case destroy the plant or prevent it from growing properly. They spread quickly and can infect other plants. Sometimes it feels impossible but as long as we remember how good the food will taste, we continue to truck on!