Update (June 22, 2022): Our Weekly Farm Stand begins this Thursday, June 23! The produce available will vary from week to week, but there will always be something fresh, healthy and delicious. Every week for the rest of the season, from 2pm to 7pm. See you there!
Harvest Share Pickups have started! Weekly Harvest Share members will have started June 9th. Bi-weekly Harvest Share members may be starting either June 9th or June 16th. You will have received an email from us if you are to start picking up your share. Some emails may have gone to spam or promotions folders – please keep an eye out for our email reminders.
The 2022 Harvest Share registration has now closed. If you are interested in joining at a future time please fill out this form and we may contact you if there any openings.
What is Harvest Share?
Black Creek Community Farm's Harvest Share Program is a vegetable subscription program. Members pay in advance for a full season of farm-grown produce, and they come to the farm every week OR every other week to pick up their "share" of the harvest. This program model is known as a CSA, which stands for Community-Supported Agriculture. Learn more about CSAs here.
By committing to farm-fresh vegetables, you are ensuring a nutrient-packed seasonal diet for yourself and your loved ones! Our members report consuming more vegetables after joining our program and they look forward to connecting with our growers each week during the pick-up.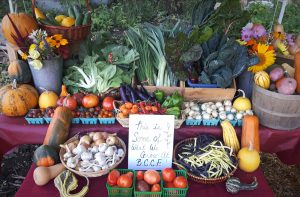 ---
2022 Program Overview
June to November:
The first pick-up is scheduled for early to mid June, depending on spring weather and growing conditions. Closer to June, we will contact all members to confirm the exact start date.
Weekly or bi-weekly membership:
Weekly (22 weeks – pick up every week)
Bi-weekly (11 weeks – pick up every other week)
8 to 10 items each week (see examples of our weekly shares below):
A different combination of

seasonal vegetables

each week, selected by the farm
All produce is certified organic and grown at BCCF
An approximate list of vegetable items in the share will be emailed the day before, along with a weekly recipe
In addition to their share items members will be free to pick their own herbs and cut flowers from a designated area in the field, no charge
Members will be allowed to pick their own raspberries and apples, when in season and according to quantities available, for a set fee per volume container
Members will receive a 10% discount on any value-added products for sale
On-farm pick-up:
Thursdays, 2 to 7 pm (we've expanded the pick-up window slightly to make it more convenient for members hoping to avoid traffic). If you don't pick up on Thursday, we will pre-pack your bag and hold it in our cooler until Saturday at noon, after which, if you have not picked it up, we will set it aside for donation to a local food bank.
4929 Jane Street, Toronto

COVID-19 update:

For now we will request that all customers wash or sanitize their hands upon entering the farm (at our hand-washing station), wear a face mask, and practice social distancing while picking up. We will also be pre-packing the bags in order to facilitiate a quicker pickup and dropoff. We are optimistic that we can move to a customer-pack model and offer more opportunities to trade items, as well as potentially relax some of the above measures, as the season progresses, and we update our site safety protocols in response to the pandemic.

Sliding scale pricing:
See our "Pricing" section below for more details.
Installment payment option available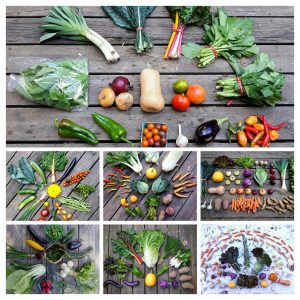 ---
Pricing
We offer sliding scale pricing for our membership options. Every member gets the same amount and quality of vegetables every week, regardless of the price you pay.* For those who choose our "supporter" price option, you are helping to make our sliding scale model possible.
Annual Membership Price
Bi-weekly Pick-Up

Total: 11 weeks

Weekly Pick-Up

Total: 22 weeks

Weekly

Equivalent

Accessible Price
$220
$440
$20
Regular Price
$297
$594
$27
Supporter Price
$374
$748
$34
*The total value of each week's produce selection is ~$27. If there is a week when we do not meet this value (i.e: crop loss due to weather, pests, or disease), extra produce will be given in subsequent weeks to ensure that you receive your annual membership value.
---
Payment Options
You can pay in full or in two equal installments. Your full payment or first installment is due at the time of registration. We accept the following forms of payment:
Online credit card payment through our registration form

Cheque payment by mail or at the farm

Cash payment at the farm
Payment Schedule*
Registration
Full payment or 1st installment is due
August 1
2nd installment is due
*In our commitment to accessibility, if you need additional payment accommodations, please contact us at produce@blackcreekfarm.ca.