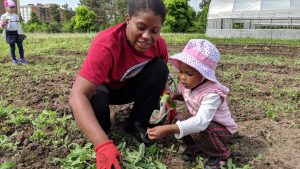 In 2018, we hosted over 2225 children in our camp and school programs.  Without your support, we wouldn't be able to have this influence on kids and their families.  Thank you for helping us continue this work.
Children and youth who spend time at the farm gain a deeper connection to the earth, build self-esteem and confidence,  learn respect for nature and all living things, and get to experience something very special.  Conversations like the one below happen often, and I hear the campers sharing their stories at the end of the day with their parents, beaming with excitement about the seeds they planted in the garden, the chickens they fed, the kale chips they made or a wish they made on our wishing tree, deep in the forest.
– River Kochen, Farm School and Camp Coordinator
Donate Now
Being a recent newcomer to Canada and not having family around, it was understandable that my son was very attached to me and his dad. After farm camp last year, he changed so much, he grew and got much more self-esteem and confidence that summer. He also got much more interested in cooking, bringing home skills and recipes to share and apply. The BCCF Farm camps definitely had a crucial influence in shaping his personality and in building his knowledge.

– Parent
A charitable tax receipt for your donation to BCCF will be issued by FoodShare Toronto, BN: 107392359RR0001.