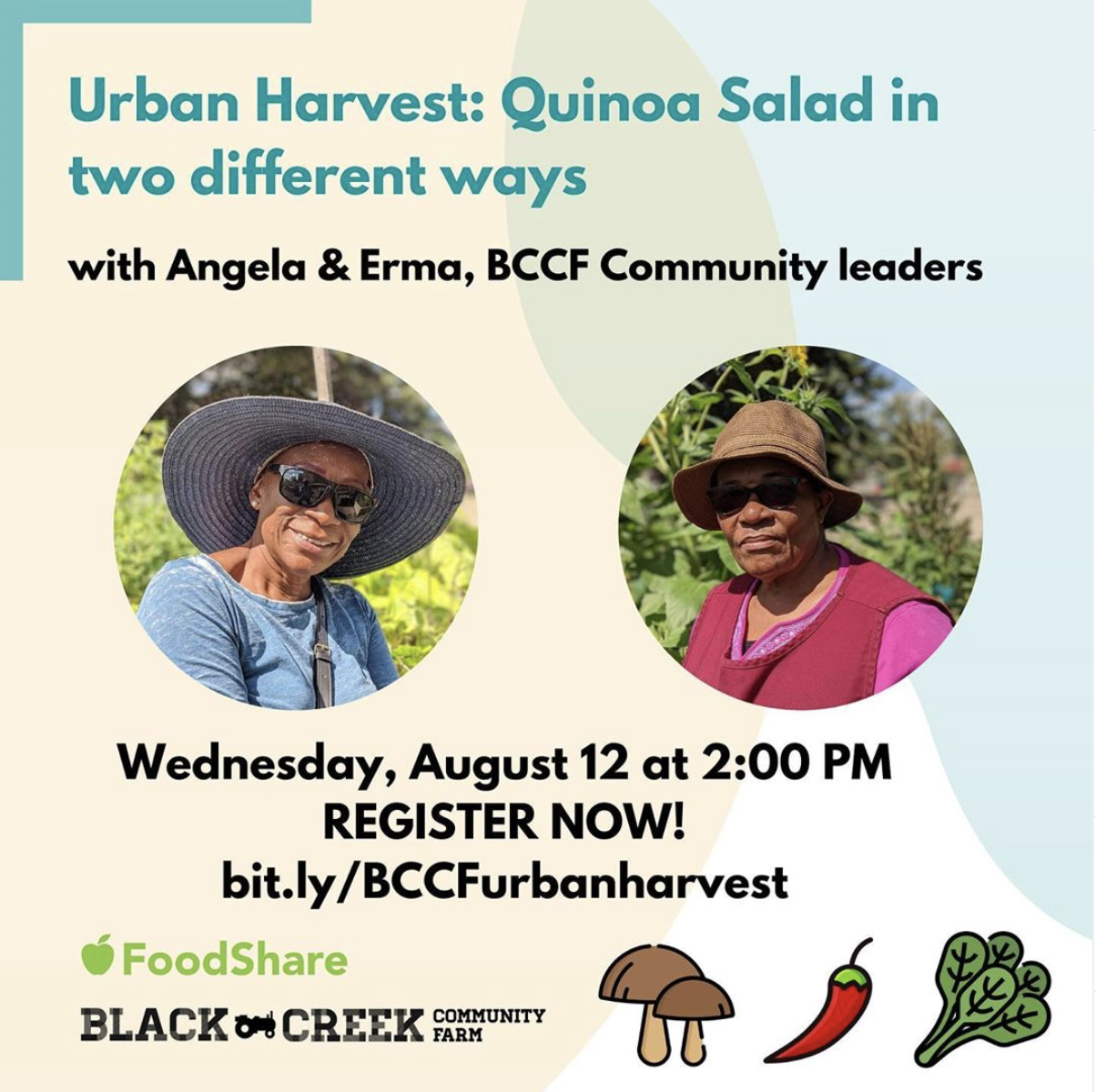 Event details
Monday | August 12, 2020
2:00 pm - 3:00 pm
Register now for our upcoming #UrbanHarvest workshop: Quinoa Salad with Angela and Erma, BCCF Community Leaders
Angela: Her passion is cooking, she used to work as nutrition coordinator and is a freelance chef. She's involved in different community projects in the Jane and Finch community but Seniors/eldery geared programming – such as the one at black creek farm – resonate with her the most because she finds that there aren't enough opportunities to allow seniors to connect with other people.
Erma: Met angela and became good friends through the urban harvest program. Erma has been greatly for the urban ag opportunities – at the farm and sanromanoway – because they are spaces that allow her to be outside/enjoy the outdoors
-ran food workshops in the past; how collaborative it is and involves community; everyone places an important role and pitches in, and you get to meet different people.
They'll talk a bit about the traditions of their recipes, and how these recipes are money saving and preservation practices! Join us on Wednesday August 12, to learn these recipes, and engage in conversations about food justice!
The workshop will take place live on Zoom, at 2pm EST, Wednesday, August 12, 2020. You need to register to get the Zoom details! Looking forward to sharing and learning with you all!
[Photo description: Title text reads : Urban Harvest: Mixed Greens Stir Fry & Zucchini Muffins with Celia & Daniel, BCCF Community leaders. Separate images of Celia & Daniel. Date: Wednesday, July 22, 2020. Register Now! – with Black Creek Community Farm logo, and image of cartoon vegetables next to it]