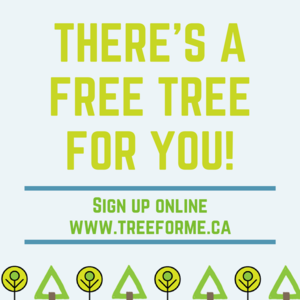 Event details
Sunday | September 30, 2018
6:00 pm - 10:00 pm
Black Creek Community Farm 4929 Jane St Toronto ON M3N 2K8
416.393.6381
The Tree for Me program matches people in Toronto with native trees. The trees are provided at no cost to people who sign up and then attend a tree planting and tree care workshop like the one we are hosting at the farm on September 30th!
No space? No problem! Adopt a tree and plant it at BCCF.  We will be hosting a Tree Planting activity on the event day! Plant a tree, adopt it by adding your name and date in a tree tag and bring home an Adopt-a-Tree Certificate!
Event Schedule:
1pm-3pm: Check in, Workshops, Tree Giveaway
3pm-5pm: Tree Planting Activity
Trees available:
– Serviceberries
– Red Maple
– Bur Oak
– White Birch
– Hackberry
– Staghorn Sumac
Visit treeforme.ca learn more about the program, to match yourself with the right tree and to register (registrations open on September 1st).
We're looking for volunteers to help out with this event! Please click here for details.