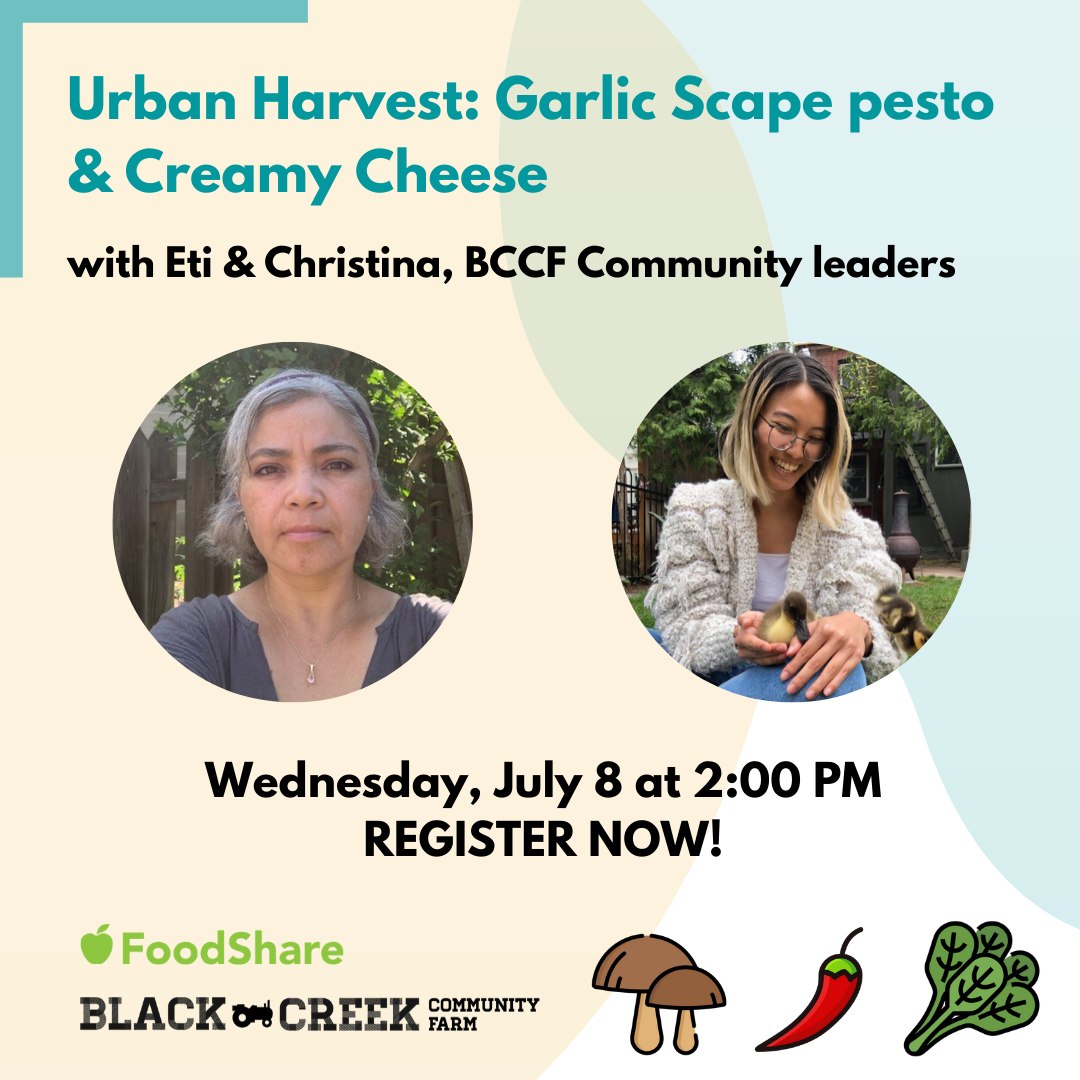 #Urbanharvest workshop: Garlic Scape pesto & Creamy Cheese!! Presented by our amazing Community Leaders, Eti & Christina
This workshop took place live on Zoom, at 2pm EST, Wednesday July 8th.
Eti has been volunteering with BCCF for as Urban Harvest Community Leader. She loves to learn and share her knowledge about Farming and growing food.
Christina is working with the Urban Harvest program following her passion for food justice driven by growing up in a food desert and studying global food justice in university. She ran a good food market (partnered with Foodshare) at York University, worked at various farmer's markets across Toronto for First Fish – an Inuit wild fish distribution enterprise, and currently is learning at the farm school with Sundance Harvest. With her combined experience, she hopes to lead urban agriculture projects in her own neighborhood (Jane and Weston), and create pathways to healthy, nutritious, and culturally appropriate food. In her free time, she is working on a ~quarantine~ friendly cookbook, biking, and vegetable gardening.
They talk a bit about the traditions of their recipes, and how these fast recipes are money saving and preservation practices! Watch to learn these recipes, and of course engage in conversations about food justice!
Please REGISTER for upcoming workshops: https://bit.ly/UHform
#BlackCreekFarm #HomeCooking #reducefoodwaste #MealPrep #cooking #videos #foodies #foodlovers #foodblogger #foodlover #stay_at_home #stay_home #stayhome #FoodJustice #BlackCreek #JaneFinch #quarantinelife #quarantinecooking